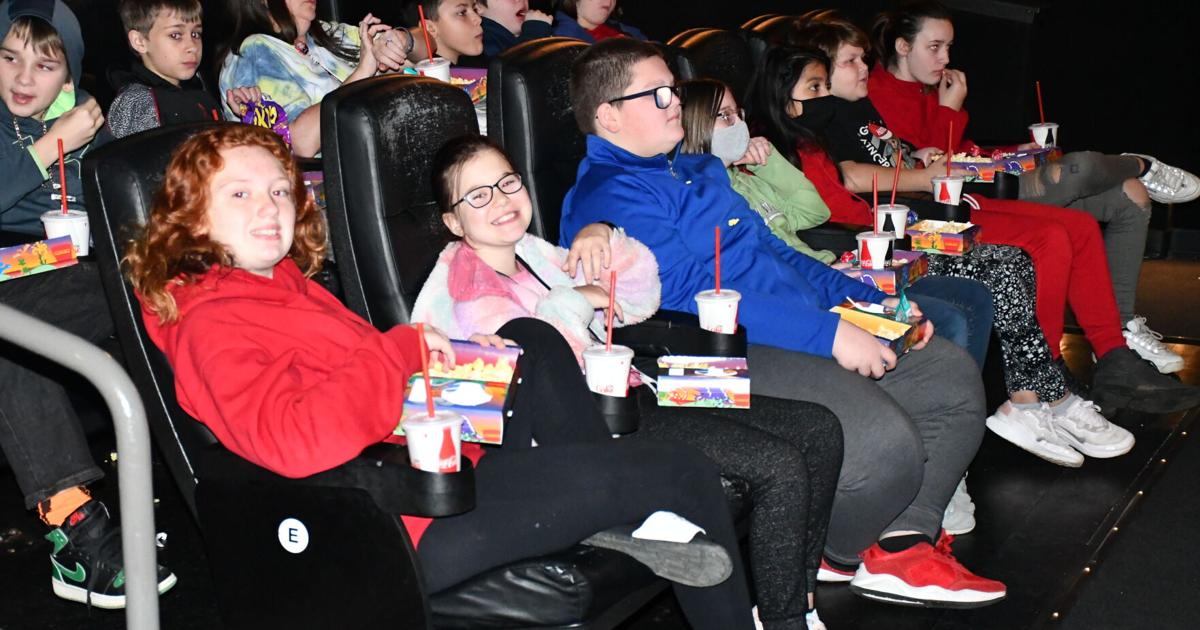 Watch now: Project Hope continues to provide experiences for Roosevelt students | Education
KINGSPORT — Sometimes making an elementary school student happy and well-rounded takes nothing more than a trip to a movie theater, something some local kids have been able to do recently as COVID-19 wanes.
Or maybe a trip to a Lady Vols basketball game, or maybe a scooter and helmet giveaway.
However, cinema was central, the lesson medium for December 14, 2021, for an entire local elementary school you might call Moviegoing 101.
Nearly 300 people from Kingsport City Schools Roosevelt Elementary, including more than 240 students, converged on Fort Henry Mall in school buses that morning to see "Clifford the Big Red Dog" at the NCG Cinema.
That may not sound surprising, except that Principal Phillip Wright said that for some of the kids in kindergarten through fifth grade, this Tuesday marked their first time in a movie theater.
"We have kids at Roosevelt who have never been to the movies before," he said.
The Roosevelt BTA (Business Teacher Association) made the trip possible through fundraising. The fundraiser brought in enough money to pay for admissions; fuel for five school buses used for transportation; and popcorn, fruit snacks and beverages for the 242 students and 39 adults on the trip.
Bennett said a few students were absent, although one showed up to the theater with help from a parent.
"We expect your very, very, very, very, very good behavior," vice principal Misty Keller told a group of students outside the theater, repeating a speech she gave to each group.
Keller and family liaison Marty Meade handed out the concession trays to the students as they entered the theater. Interventionist Tonya Warner said the students loved the film and the trip.
NCG held special viewings of the film just for Roosevelt students, faculty and staff, although two senior mall walkers jokingly tried to look shorter to pass as elementary school students.
NEED A STRAW?
Vanessa Bennett is Executive Director of Operations and Talent Development for the Kingsport Area Chamber of Commerce.
But that Tuesday morning at the theater, she was helping hand out straws to students, one of whom ran over and hugged her when the teacher said Bennett had helped bring the students in.
The theatrical trip, which Bennett called a "Christmas experience" for the band, marked the one-year anniversary of BTA, which grew out of the chamber-organized Hope Project. The school does not have a PTA (parent-teacher association), so Bennett said the BTA was formed.
The program assists the economically disadvantaged Roosevelt student body through the efforts of local businesses, other groups, and the chamber.
Project Hope's first event was a trip to Knoxville to see Lady Vols perform in December 2018. Last year, the BTA, through Project Hope, provided each Roosevelt student with a scooter and requested at Niswonger Children's Hospital in Johnson City to donate helmets.
Because the fundraiser brought in more money than the cost of the trip to the theatre, Bennett said the surplus will go early next year to make stands for the scooters that many students ride in school. school.
The group was split between four screening rooms, including one for special needs students with sensory issues that left the lights on and the volume turned down.
The school also had at least one film critic who gave the show a thumbs up before it started. "This is my second time watching it," he offered to Bennett, who replied, "Is it good?"
He said yes."
Project Hope helps facilitate and encourage community involvement in schools. It grew in Roosevelt and also serves Kennedy and Jackson elementary schools as well as Robinson and Sevier colleges, with plans to expand further.
Try the Kingsport Times News app today. Download here from Google Play and App Store.