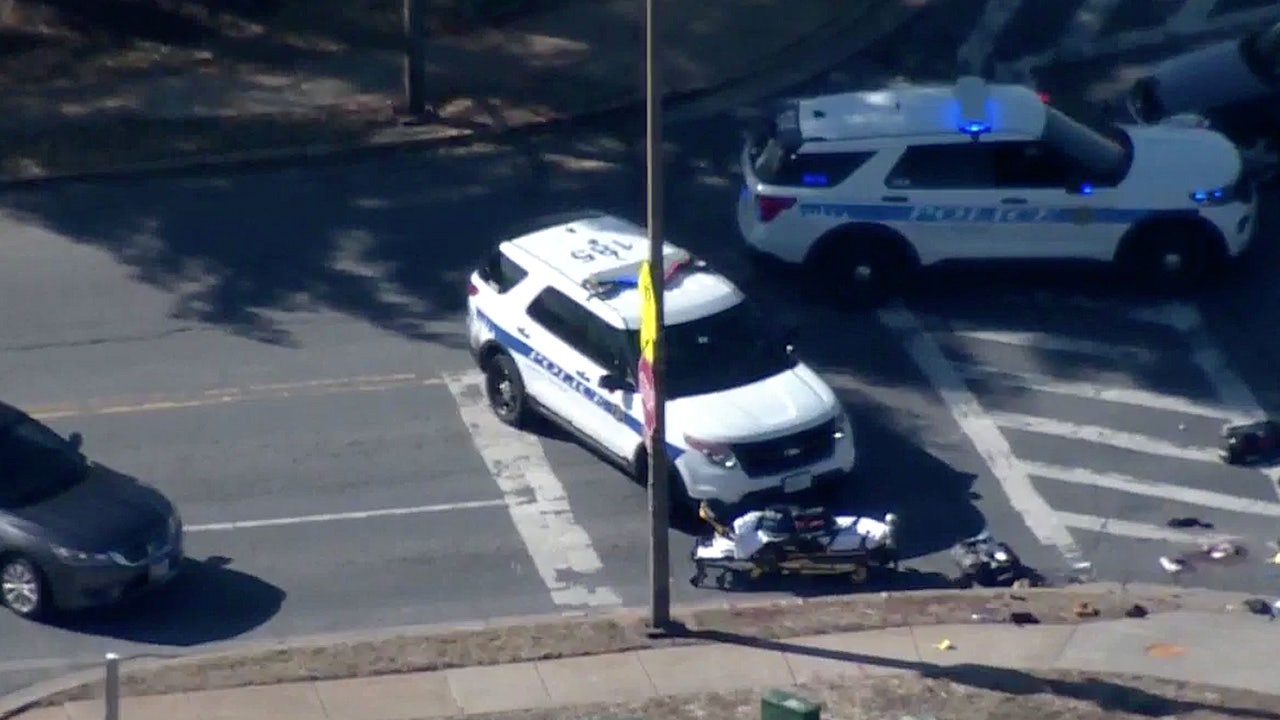 Two Maryland officers, suspects with gunshot wounds: police
Two police officers and a suspect in Frederick, Maryland, were shot, local authorities said, but are expected to recover.
A man and woman responded to a call about a male suspect just before 12:45 a.m. ET Friday near Key Parkway and Waverly Drive, Frederick Police Chief Jason Lando told reporters. A police dispatcher had indicated the suspect was armed, he said.
"Shortly after the first two officers arrived on scene, we received an emergency message that there had been a shooting," Lando said.
The officers and the suspect were shot. All three were transported by a Maryland State Police helicopter to the University of Maryland Medical Center in Baltimore.
They were identified Friday night as Officers Bryan Snyder, 43, and Kristen Kowalsky, 32. Snyder has been with the department for 2 years and Kowalsky is a nine-year veteran of the force, Lando said outside the hospital.
The suspect, Dominique Lamarr Lewis, 25, was recovering from surgery, Dr Thomas Scalea said. All three were shot in the upper body.
The doctor noted that the hospital admitted five gunshot victims before 2 p.m. Friday before commenting on the gun violence happening in the city and across the state.
"It's out of control," he said. "It's so demoralizing to do this day after day after day."
Maryland Governor Larry Hogan, a Republican, tweeted that he was monitoring the shooting and asked residents to keep the officers in their prayers.
"I want to thank all of the officers who acted quickly, including Frederick Barrack's State Troopers who assisted in the initial response, and members of our Aviation Command who transported the injured officers. Our investigators remain at the scene," he wrote. .
9 PHOENIX POLICE OFFICERS INJURED, WOMAN INJURED IN SHOTGUN IN INCIDENT INVOLVING BABY GIRL; SUSPICIOUS DEATH
It is not immediately known who fired their weapons or if Lewis was known to police. The injured officers wore body cameras, which will be examined, Lando said.
He said there were no other threats to the community. State police and the state attorney general's office will investigate the shooting, Lando said.
"These two officers, when they recover, I know they'll want to get back on the streets and start over and that's absolutely remarkable," he said.
The Fraternal National Order of Police, the nation's largest police union, released a statement about Frederick's shooting on Twitter.
"Please pray for the officer who was shot in Frederick, MD," the NFOP tweeted. "Reports indicate that at least one law enforcement officer has been shot, possibly more. Our elected officials must condemn violence against law enforcement. STOP SHOOTING AT OUR OFFICERS!"
CLICK HERE TO GET THE FOX NEWS APP
The shooting comes hours after nine officers were injured in a shooting in Phoenix, Arizona on Friday morning.