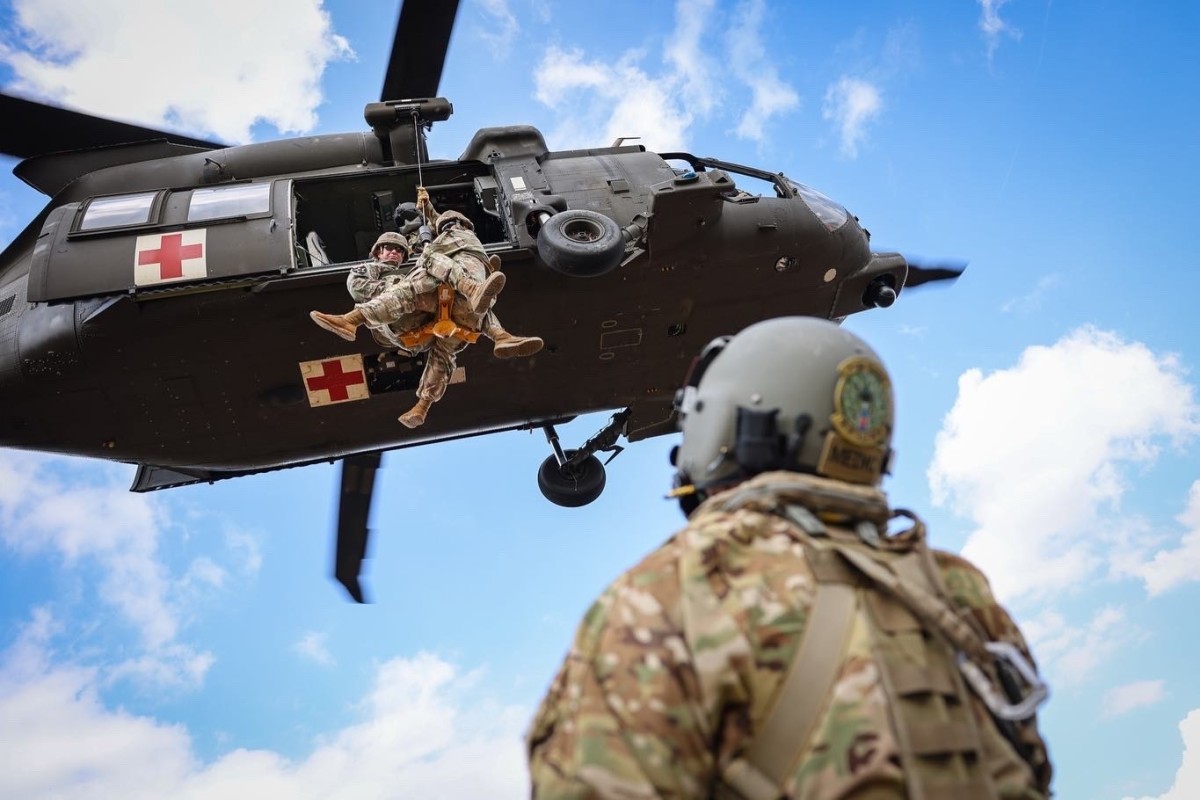 Theater Medical Command Deploys for Readiness Exercise | Item
SCHOFIELD fire station, Hawaii– The ability to tactically move military units from point A to point B is an essential capability that most Army units retain. 18th medical command demonstrated this ability during a Deployment Readiness Exercise (DRE) as they left Fort. Shafter to Area X-ray at Schofield Barracks on November 15, 2021.
Tactical movement was the first of many Mission Critical Task List (METL) items that the Theater Medical Command would exercise during this training, Sgt. Major Farrens, 18th G3 Medical Command Ongoing Operations Sgt. The Major explained, "This DRE has allowed us to work to provide opportunities to test and update our systems and processes unique to a theater medical command. "
Farrens went on to say, "Realistically medical evacuation The training our team coordinated provided both soldiers from the 18th Medical Command and 8th Advanced Surgical Resuscitation Detachment real-world rehearsals of proper loading of military aircraft, while allowing our OCP (Operational Command Post) to track patient movements between care roles.
The training event would provide US Army Pacific senior headquarters the opportunity to integrate training into the Scenario Master List (MSEL) at the 18th Medical Command OCP. This type of training simulates what a forward stationed medical command OCP would do to command and control (C2) medical resources throughout the Indonesian Pacific Theater operations within the joint force.
18th Medical Command Chief of Staff Col. Jolanda Walker helped define the mission complexity that the Command faces while deploying, "Through deployment readiness exercises like this one, we are able to operationally employ, tactically move our operational command post and proceed with timely site creation with secure communication capabilities. Walker added, "This is proof that we can work independently , establish an ongoing operations and integration cell and begin command and control operations within one hour of arriving on the ground to perform C2 missions involving multiple joint organizations. "
As important as beans and bullets are to infantrymen, the ability to communicate and have computer connectivity is essential for a theater-level C2 medical unit. "It is imperative that our unit continues to partner with the Signals community as it provides the necessary tactical communication capabilities beyond what is organically assigned." Major Christiaan Taylor said, "We are using DRE as an opportunity to see ourselves better and to determine the gaps that exist within our organic architecture. Taylor added, "We recently added new technology that allows us to reach the ground and immediately establish network connectivity, which is our ultimate communication goal. "
The DRE has done more than just setting up an OCP for theater-level medical C2. "This exercise facilitated the practice of skills from the individual level to the upper echelons of the brigade. Said Cpl. Seamus McMullen, 18th Medical Command Headquarters Commander, Headquarters Company. "It is important to train basic skills in conjunction with unit training for collective tasks. This develops well-rounded soldiers while allowing them to understand the operation as a whole and how they fit into our mission.
Colonel Walker ended by saying, "It has been a huge success with the lessons learned identified and captured; mainly in maintenance, training and knowledge of the DRE sequence of events. So excited and proud of this team and what they were able to accomplish in the planning and execution of this event. "
#PacificKnights