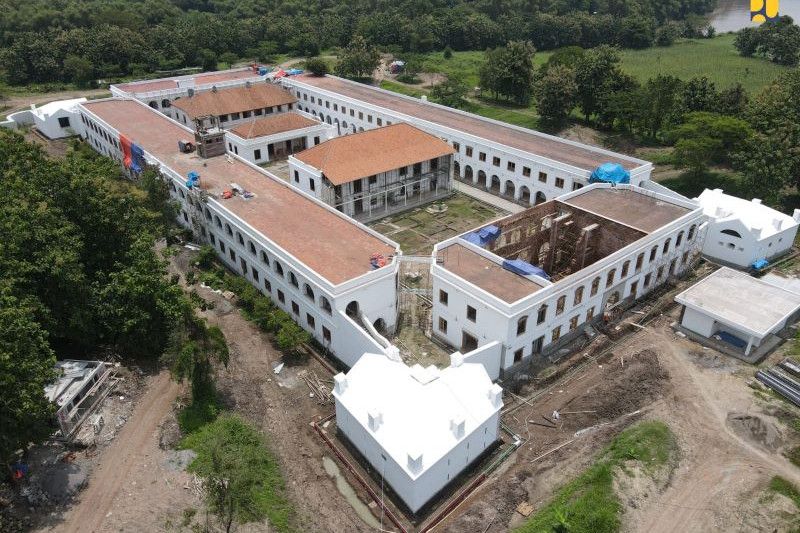 The revitalization of Fort Van den Bosch supports the revival of tourism in Ngawi
Jakarta (ANTARA) – The ongoing revitalization of Fort Van den Bosch, also known as Benteng Pendem, will reinvigorate tourism in Ngawi district in East Java, an official with the Ministry of Public Works and of public housing.
"The Benteng Pendem area is a cultural heritage site, so revitalization should be carried out with caution to ensure the preservation of the cultural values ​​of the fort," Minister of Public Works and Public Housing Basuki Hadimuljono noted in his statement received here. Monday.
Hadimuljono spoke of asking contractors to plant more trees to prevent the tourist destination from turning into an arid zone and to ensure that environmental and cultural aspects are maintained during the revitalization process.
The concept of adaptive reuse was applied during the revitalization of Fort Van den Bosch, the minister revealed while explaining that the concept aims to adjust the structure of cultural heritage for new purposes while preserving the cultural significance and form building physics, albeit with a reinforcing structure.
The revitalization of Benteng Pendem started on October 10, 2022, with the participation of the East Java Cultural Heritage Preservation Office, he said.
The revitalization process is being led by contractor PT Nindya Karya (Persero), with a total contract value of Rp 113.7 billion ($7.95 million), for the rehabilitation of 13 structures in the Fort complex , noted Hadimuljono.
He pointed out that the 13 structures in the Fort Van den Bosch complex are the soldiers' barracks, the officers' quarters, a large kitchen, the general's office and quarters, the fort bastion and the fort gate. Apart from structural rehabilitation, new roads, drainage systems, pedestrian and landscaping works are also underway as part of the project, he added.
Work on the project has reached 75% completion and is expected to be ready in January 2023 according to schedule, the minister said.
Related News: Penyengat Island suitable for 3S-based tourist destination: Minister
Meanwhile, Director of Building Revitalization of the Ministry's Human Settlements Branch, Boby Ali Azhari noted that the revitalization of Benteng Pendem aims to maintain the conditions of the culturally significant structure that has existed since the 1840s and to strengthen the tourist potential of the Ngawi district. .
"Visitors would have their first impression (of the fort) from the entry point, and historic photographs should be placed at this point. It's fine if we don't build a new bridge until the waterway is blocked "Azhari said. noticed.
Fort Van den Bosch is located on Untung Surapati Road, Ngawi District, East Java. The tourist attraction, located about three kilometers from the city center, is two hours east of the provincial capital, Surabaya.
Related News: Big Data contributes to the tourism prosperity of the international historical and cultural city of Datong