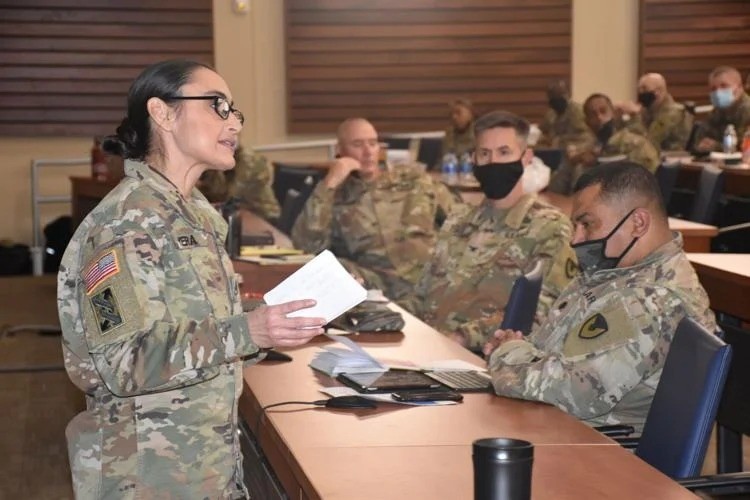 Success Focused Seminar | Item
FORT HOOD, TX- With a focus on the next generation of leaders, the Mobilization Support Brigade hosted their "Best Year" seminar here, Feb. 28, to help its Soldiers get the most out of their deployment.
Col. Robert Coker, 642nd Regional Support Group and MSB commander, said the concept stemmed from discussions he had with his team before leaving their home base in Decatur, Ga., to support the mission at Fort Hood.
A reserve unit itself, the 642nd was mobilized to help prepare National Guard and Reserve units for deployment domestically and overseas, as well as redeploying them to their home stations a once their missions are completed.
While here, Coker and his leadership team felt it was important to help their Soldiers take advantage of the opportunities available to them throughout this deployment to the United States.
He explained that if his soldiers could learn to reduce some of their debt and open a retirement account, "we're positioning them for the long term to experience fewer distractions and stronger families."
And with fewer financial distractions, the team says, they would be more focused and better able to complete the mission.
"There are many connection points that relate to supporting our mission and strengthening our ability to accomplish our mission," Coker said.
Major Brian M. Hare, Public Affairs Officer, 642nd RSG, said, "We wanted to encourage our soldiers to get the most out of their time in service. So we focused on four different areas: finance, education, health and wellness, and spirituality.
"It's not so much focused on our mission, it's focused on the soldiers in these four different areas," he said. "We want them to use their time wisely. We want them to save money, enjoy their educational benefits, build a good spiritual foundation, and health and well-being when it comes to physical preparation and common sense.
Hare added that to achieve the objectives of the seminar, the unit assigned several members of its staff with unique skills and areas of expertise to lead discussions in the four areas.
According to MSB Command Sgt. Major Denise Demps, this off the beaten path training opportunity is something much needed.
"It's a variety of things we talk about, but it's all about improving the soldier's life for the future… thinking about finances, education, getting your body in shape. and his spirit, as well as his spirituality," she said. "Today is our train-the-trainer portion, where we train leaders on the concepts and what we want their soldiers to learn and know so they can have a better life when they finish their job in as a military or civilian member.
"We want them to set goals on how to get there in a year, achievable goals that you can measure," she said. "We want them to set goals now and by the end of the year we want to see how well they've achieved those goals and how it's enriched their lives."
Some goals she would like to see are for soldiers to further their education, i.e. professional military education, getting certified, or earning a degree.
Donnell Younger, one of the participants and an operations officer at MSB, said "regardless of this mobilization, it's all intangible – it's a life thing".
"This is what we need about our lives and our families, so they can move forward," he said.
Younger added that it is important for senior leaders to disseminate this valuable information to junior soldiers, so that "they can be successful in the future."
The challenge, he says, is to ensure that our leaders today share this information with our junior soldiers so that they can be strong and unwavering to support the mission.
And, he adds, training like this is a step in the right direction.