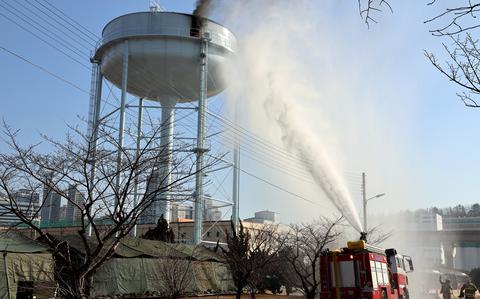 South Korean military drone hits water tower at US Army outpost in Busan
CAMP HUMPHREYS, South Korea – A small South Korean military drone crashed and left minor fire damage atop a water tower at a US military outpost in Busan, a carrier said. South Korean military speech.
The collision happened around 9:14 a.m. Thursday at the storage facility in Busan, a small facility in the southern coastal city, a spokesman said on condition of anonymity.
sergeant. 1st Class Adam Ross, spokesman for the 19th Expeditionary Sustainment Command, confirmed the incident to the Stars and Stripes by phone Friday and said no injuries were reported. The damage to the water tower is cosmetic, he added.
Local firefighters extinguished the flames within 20 minutes, a Busan fire department official told the Stars and Stripes on Friday. He said "sparks were flying" when first responders arrived.
American and South Korean servicemen work together at the storage facility.
South Korea's military spokesman said the drone was powered by a hydrogen fuel cell. It appeared to be a small multi-rotor variant, based on footage taken at the scene Thursday by a Sustainment Command soldier that was shared with Stars and Stripes.
The South Korean military is investigating the collision, the spokesperson said.
The 19th Expeditionary Sustainment Command is headquartered in Daegu and comprises approximately 5,600 personnel. Its duties are to provide support to the 8th Army on the Korean Peninsula.