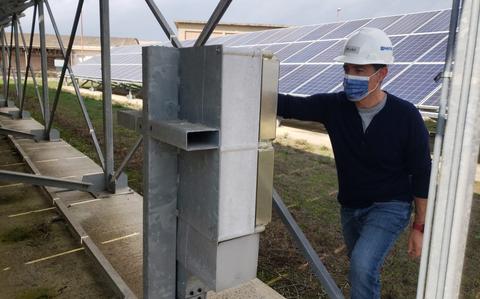 Soaring energy costs show up in bills for US bases and military personnel across Europe
NAPLES, Italy — U.S. military installations across Europe estimate they will collectively pay at least $50 million more for gas and electricity next year amid soaring wholesale gas prices. exacerbated in some cases by a reliance on Russian natural gas.
Bases in Germany, Belgium and Italy expect to pay up to double for electricity this fiscal year compared to what they paid last year. Estimates of the cost of gas vary, but most bases expect an increase of almost 50% over the same period.
Rising costs are already affecting some military and Department of Defense employees whose bills are poised to exceed their combined off-base housing and utility allowances.
The cost ceiling remains uncertain as energy prices in Europe soar following Russia's invasion of Ukraine. They were already rising due to low natural gas reserves, strong demand and rising carbon emission costs.
For example, Naval Support Activity Naples expects to pay approximately $22 million for electricity and $1.4 million for natural gas in the current fiscal year, which begins Oct. 1, 2021. That's about double what the base paid last year, said Lisa Woodbury Rama. , spokesperson for the Naval Facilities Engineering Command Europe Africa Central.
With more than six months left in the fiscal year and uncertainty about the impact of the war in Ukraine and economic sanctions against Russia on natural gas supply, the base does not have exact figures, a she declared.
"Hopefully market volatility will stabilize in the not too distant future, production will increase and as we move into warmer months demand will decline and rates will start to fall again," Woodbury Rama said.
Italy buys around 40% of its natural gas from Russia, the Corriere della Sella newspaper reported this month. If Russia were to cut supply in retaliation for economic sanctions, prices could rise sharply, the newspaper reported.
Meanwhile, the European Union pledged last week to cut its dependence on Russian gas by two-thirds by the end of the year, which could allow other countries to sell gas at higher prices due to increased demand.
Army Garrison Wiesbaden installed a solar panel to save on energy costs. But extreme price volatility is forcing army garrisons in Germany to budget much higher amounts for electricity and natural gas this fiscal year, according to Mark Heeter, spokesman for Army Installation Management
Command –
Europe. ."/>
U.S. Army Garrison Vicenza expects a 97% increase in its electric bill and 258% in its gas bill this fiscal year, base spokesman Rick Scavetta said. .
If that estimate holds true, the Garrison will pay about $13.8 million and $7.2 million for electricity and gas, respectively, this fiscal year, Scavetta said.
Similarly, Italy's Aviano Air Base expects to pay about $13.3 million this fiscal year for electricity, an increase of 93%. Its gas bill is expected to rise about 53% to about $1.4 million this fiscal year, said 1st Lt. Myron McRae, a spokesman for Aviano.
In Germany, five US Army garrisons that jointly contract utilities plan to pay 44% more for electricity this year.
Last year, those five garrisons — Rheinland-Pfalz, Wiesbaden, Stuttgart, Bavaria and Ansbach — paid about $71.6 million for electricity. This year they will pay about $103.1 million, said Mark Heeter, spokesman for Army Installation Management Command–Europe.
Those same five garrisons paid about $6.6 million for natural gas in fiscal year 2021. This fiscal year, the estimate is about $9.7 million, an increase of 47 percent, a Heeter said.
The US Army Benelux Garrison in Belgium estimated 57% and 39% increases for electricity and gas, respectively, Heeter said.
The navy could not provide figures for its other base in Italy, Naval Air Station Sigonella in Sicily, or for Naval Base Rota in Spain and Souda Bay naval support activity in Crete.
The bases aren't the only ones feeling the pinch. Some active duty community members, both civilian and military, particularly in Italy and Germany, are being forced to deal with pressure on their budgets from skyrocketing utility prices.
Petty Officer 1st Class Caroline Crumbacker, assigned to NSA Naples, was already trying to reduce her energy consumption.
Even so, her February bill for three months of electricity was 286 euros, or about $311, almost $100 more than she usually pays.
Crumbacker's basic monthly housing allowance from the Navy covers her expenses even with the dollar-euro exchange rate, she said. But if Crumbacker's utility costs exceed the monthly amount she receives for rent, gas and electricity and other services, like the internet, she will have to pay the difference out of pocket.
Although the Navy will not compensate it for increased costs, it may readjust the housing allowance it provides to service members due to inflation or other factors, Crumbacker said. However, this readjustment would likely only occur on an annual basis, she noted.
"If my next bill is 500 euros or something like that, then I'm really going to have to live in the dark," said Crumbacker, who like other active-duty servicemen also receives a cost-of-living allowance designed to compensate. the higher costs of living abroad in some places.
Italy's Energy, Networks and Environment Regulatory Agency calculates that consumers like Crumbacker will pay at least 55% and 42% more, respectively, for electricity and gas in the first quarter of 2022 .
For Emily Painter-Davis and her family, higher gas and electricity costs mean their housing and utility allowance will be stretched even further.
It no longer covers rising rents and utility costs after the COVID-19 pandemic, said Painter-Davis, whose husband is retired from the military and works as a contractor at the NSA Naples Capodichino site, near Naples International Airport.
Before the pandemic, the family paid around 0.55 euros per liter of natural gas but now pays 0.85 euros, she said. It costs about 1,200 to 1,500 euros (about $1,309 to $1,636) per year for natural gas to heat the family home in Lago Patria.
Likewise, their average electricity bill jumped to around 350 euros, or $382, from 150 to 250 euros per month depending on the season, Painter-Davis said. That's with conservation efforts factored into the mix.
As a result, the family is limiting restaurant visits and travel beyond the Naples area, she said.
"It really put a damper on what we can do," Painter-Davis said.
This pain is also felt by other military families in Europe, such as those who live near Ramstein Air Base and Landstuhl Regional Medical Center in Germany.
Commenters on community Facebook pages posted information about rising utility costs and notifications from natural gas supplier Stadtwerke Landstuhl that prices will rise.
And in February, Naples and Sigonella posted notices on their respective Facebook pages about impending utility price hikes and ways people could save on costs.
Naples has received responses to its post from members of the community regarding the price hike, said base spokesman Lt. Jamie Moroney.
But she added that so far no off-base residents have sought to move into basic housing due to their rising utility bills.