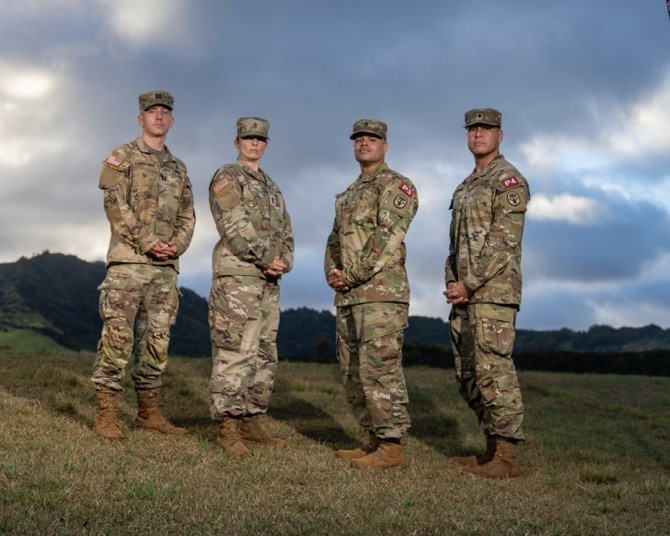 Regional Health Command-Pacific Soldiers Win Top US Army Medical Command Leader Challenge | Item
SCHOFIELD BARRACKS, Hawaii – Three soldiers from the Desmond T. Doss Health Clinic (DDHC) and one from the US Army Medical Activity-Korea took first place in the 2021 US Army Medical Command Best Leader competition here today 'hui.
Captain Jason Christman, 1st Sgt. Amy Davis, Staff Sgt. Israel Rivera, and Spc. Jarett Rodriguez faced teams from Regional Health Command-Europe, Regional Health Command-Central and Regional Health Command-Atlantic in a week of grueling physical and mental events.
"The only reason we succeeded in this competition is because we came together as a team," said Captain Jason Christman, optometrist at DDHC. "We were all exhausted, both mentally and physically, but we came together as a team and held each other up. "
The week-long competition consisted of several events, including day and night land navigation, an Army combat aptitude test, written exam, medical lanes and even a mystery event.
"We were able to prepare for the events we were experiencing, but we were all nervous about the mystery event," said Staff Sgt. Israel Rivera, a combat medic with DDHC. "It turned out to be a kayaking event that really pushed us to our limits and then passed them. "
The U.S. Army Medical Command designed the competition events to test teams' medical abilities, such as casualty response, as well as their tactical skills as soldiers, such as marksmanship. In addition to mastering medical training, combat medics must be able to integrate seamlessly into combat units across the military.
"We're soldiers first, and that means we have to be prepared to do whatever we're called to do," said 1st Sgt. Amy Davis, combat medic with medical activity in the United States Army – Korea. "Fortunately I have an amazing team and we were able to rely on each other to get through the competition. "
As the team spends their normal workdays focusing on patient care, they had to train for the event outside of duty hours.
"We had to integrate our training whenever we could," said SPC. Jarett Rodriguez, a combat medic with DDHC. "Because we take care of patients during the shift day, we find time to practice in the morning before the clinic opens, in the evenings and even on weekends to make sure we were ready. "
The group recognized teamwork as the key to success. Having an officer, first sergeant, non-commissioned officer and junior soldier on the team allowed the group to take advantage of different skills and perspectives to win the competition.
"The fact that we are of different ranks, that we have different experiences and that we come from different career fields makes us a stronger team," explained Rivera. "No matter what we were up against, we knew we could count on each other. Teamwork is the only reason we won first place.
In addition to taking first place as a team, two members of the Regional Health Command – Pacific team won in their respective individual categories. Christman took first place in the officer category and Rodriguez took first place in the junior enlisted category.
Regional Health Command-Pacific, headquartered at JBLM and Honolulu, is the most geographically dispersed command in military medicine, spanning more than 5,000 miles and five time zones across the Pacific.
The command oversees Army medical treatment facilities and units in the Pacific Northwest, Alaska, Hawaii, Japan and South Korea.