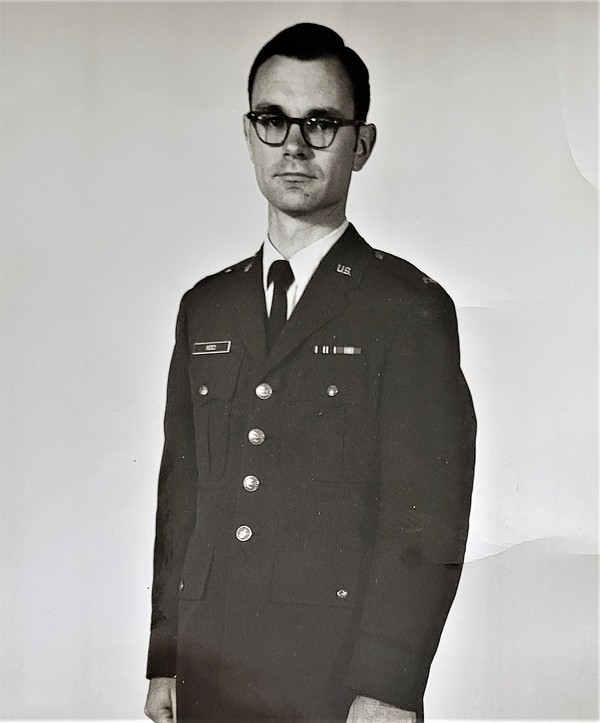 Reed gained experience as an Air Force civilian engineer during the Cold War
Robert Reed likes to share deeply marked moments of his military service; an exciting period of his life that resulted in many rewarding professional experiences.
His stint in the US Air Force became a moment in his youth that allowed him to apply an early interest in civil engineering while serving his country in uniform.
"I graduated from University Laboratory High School (Columbia, Missouri) in 1963 and decided to stay local and go to college," Reed said. "At the start of my sophomore year, I worked for a civil engineer who owned an apartment building, and he helped spark my interest in becoming an engineer."
Enrolling at the University of Missouri, Reed participated in the Air Force ROTC program, just like two of his older brothers had. He excelled in this environment and upon obtaining his bachelor's degree in engineering in 1968, he received a commission as a second lieutenant in the Air Force.
He said: "The Air Force placed me on temporary duty as a graduate student and I stayed in college the following year to earn my master's degree in sanitary engineering. In August 1969, three months after graduating, I entered active duty and married my fiancee, Darlene, a few months later."
Assigned to the 809th Civil Engineer Squadron at Francis E. Warren Air Force Base near Cheyenne, Wyoming, Lt. Reed began his duties as a missile facility maintenance engineer. Many of his new responsibilities were influenced by the transition to new missiles and changing environmental considerations.
"When I arrived they were in the process of switching from Minuteman I missiles to Minuteman II missiles," he said. "About half of the process has been completed, but as part of my duties, I helped oversee the maintenance of water and wastewater treatment systems at missile control sites."
Shortly after Reed's arrival at the strategic missile base, President Richard Nixon signed Executive Order 11507, which directed "federal installations to take the lead in addressing environmental pollution," said a US Air Force press release dated June 6, 1972.
He remarked, "Environmental protection became one of the priorities during his stay."
Each Missile Control Facility, which controlled multiple remote missile launch sites, had a well and water treatment system in addition to wastewater lagoons that had to be maintained in accordance with environmental regulations. . On other occasions, Reed carried out inspections of missile sites, identifying problems that needed to be corrected and coordinating personnel or contractors to effect repairs.
"There were drainage ditches around the perimeter of each launch site," he said. "In the event of heavy rain, the drainage channels can become clogged with debris and the culverts filled with dirt and mud. When this happens, the excess water can seep into the underground missile site and trigger the water alarm."
He continued, "I would help coordinate a response team to get out, unplug culverts and remove dirt from drainage ditches."
On other occasions, fuel storage for emergency diesel generators at missile sites has leaked inside the facilities and into air supply ducts, requiring contracted services to pump fuel from the site.
"By the time the leaks were discovered and a contractor notified, it was often late at night or early in the morning before they arrived on site," he said. "I should stay with them until the job is done, staying out in the middle of those cold Wyoming winters."
The military officer attended several service schools which introduced him to the many trades that were under his professional supervision, such as carpentry, plumbing and electrical. He also remembers being the project engineer for the installation of one of the first reverse osmosis treatment systems in the Air Force.
"I traveled to Minot, North Dakota during the last week of January 1971 to learn how to install these systems," he said. "It was below freezing for weeks and it became a memorable experience, being outside in this freezing weather for eight hours a day for several days."
He was later promoted to captain and appointed to lead the conduct of extensive surveys of missile bases to develop an environmental master plan. This plan established safeguards against air and water pollution and implemented environmental protections under a broader federal mandate.
His work was recognized by General Robert R. Scott, commander of the 4th Strategic Missile Division, earning him the Strategic Air Command Civil (Military) Engineering Meritorious Achievement Award.
Two and a half years into his assignment, Reed was appointed as the base facilities engineer, concentrating his efforts on maintaining other buildings for the remainder of his time in the Air Force.
Receiving his honorable discharge in June 1973, Reed and his wife first moved to Kentucky, but returned to Missouri six years later, where they raised their three children. He later earned his doctorate, worked in state government and for engineering companies, and eventually retired from the University of Missouri as a professor of engineering.
The former Air Force officer acknowledges that while his military experiences did not shine with the pizzazz seen in the stories of many of his fellow veterans, it provided him with the foundation for success in the years to come.
"I wouldn't have acquired the skills I have if I hadn't been thrown into military situations and forced to make decisions, respect those decisions, or know when to change them, if necessary," he said. -he declares.
Reed concluded, "I learned very quickly to rely on people who had the ability to do the job, which was an important leadership lesson."
Jeremy P. Ämick writes on behalf of the Silver Star Families of America.