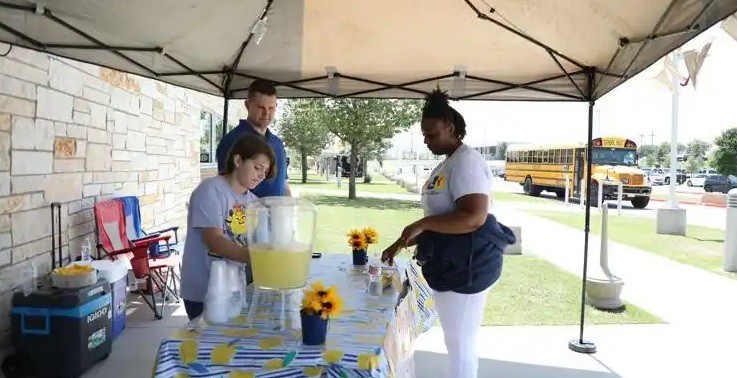 Lemonade Day Draws 66 Young Entrepreneurs to Fort Hood Community | Article
FORT HOOD, TX- Sixty-six lemonade stands were set up on the installation and its surrounding communities to celebrate the 13th annual Military Lemonade Day here, May 7-8.
"Lemonade Day is a program where we teach kids how to start, own and operate their own business through a lemonade stand," explained Ally Torres, City Manager of Fort Hood Area Lemonade Day. "They learn entrepreneurial skills, financial knowledge, build their stand and how to create lemonade."
Nieomi King, dubbed the "Godmother of Military Lemonade Day," founded Military Lemonade Day in 2010 and Fort Hood Area Lemonade Day has continued ever since. Since the inception of Military Lemonade Day here at Fort Hood, it has expanded to other military installations around the world, allowing participating installations to register under a license at a lower cost.
"The program teaches children the fundamentals of business operations, from finding an investor to saving a portion of their profits and giving it away, because philanthropy is an essential part of business," said said King.
This year's event celebrated "A Softer View for 2022", the theme of the annual event, inspired by the end of social distancing, with a "softer" outlook for the road ahead.
Young entrepreneurs are responsible for creating a business plan, designing a lemonade stand, advertising their business, and creating a tasty lemonade. There are contests for the tastiest lemonade, the most unique lemonade, the best presentation and the best lemonade stand. This year's participants showed a lot of creativity both in the decoration of the stands and in the flavors of lemonade.
Many young participants gave their lemonade a creative twist, with a variety of concoctions such as strawberry lemonade, black cherry lemonade and even lavender lemonade.
Brother and sister duo, Solomon and Aurora Karch, the son and daughter of Chaplain (Capt.) Jack Karch, 2nd Chemical Battalion, 48th Chem. Brigade, took inspiration from Fort Hood and created an army-themed lemonade stand called "Great Place Lemonade", featuring lemonade canteens with their logo drawn on the front of the canteens.
"The Great Place is Fort Hood and we wanted to recognize our patriotism," said 11-year-old Solomon.
While the event is called Lemonade Day, lemonade stands are just the basic idea. Over the years, attendees have made it their own and now sell a variety of things, like cookies, cupcakes, hot dogs and more.
Lana Pavey, 14, of Wisteria House Lemonade, had an anime-themed lemonade stand and sold handmade paintings of her favorite anime characters, along with her lemonade.
This year's winners included:
Best Overall Tasting Lemonade – 3 B's Lemonade
The Most Unique Lemonade – Roland's Lemonade
Best Presentation – Great Place Lemonade
Entrants were invited to share a photo of their lemonade stand, which will be voted on the Lemonade Day-Greater Killeen/Fort Hood Facebook page, https://www.facebook.com/LemonadeDayGKFH. The winner of the best stand will be announced at the end of the month.
While attendees can spend their hard-earned cash on themselves, Torres said attendees are encouraged to spend, save and share it. They donate a percentage of their profits to a charity of their choice. Worldwide, over $22 million has been donated to charity through Lemonade Day.
This year, several Fort Hood youth chose to donate to charities that had a personal impact on their lives. Some chose to donate to local charities, such as the Harker Heights Animal Shelter, Texas Humane Heroes, Operation Stand Down Central Texas, among others, while other attendees chose to donate to organizations larger charities, such as the Ronald McDonald House and the Cystic Fibrosis Foundation. .
"While we don't tell attendees who and where to donate, we encourage them to search their hearts and think of an organization that speaks to them," King said. "Most kids will donate to organizations that have impacted their personal lives, such as the USO (United Services Organization), wounded warriors, animal shelters and some have gone so far as to start their own. Charity association."
For more information on Fort Hood Area Lemonade Day, visit https://lemonadeday.org/fort-hood-area.