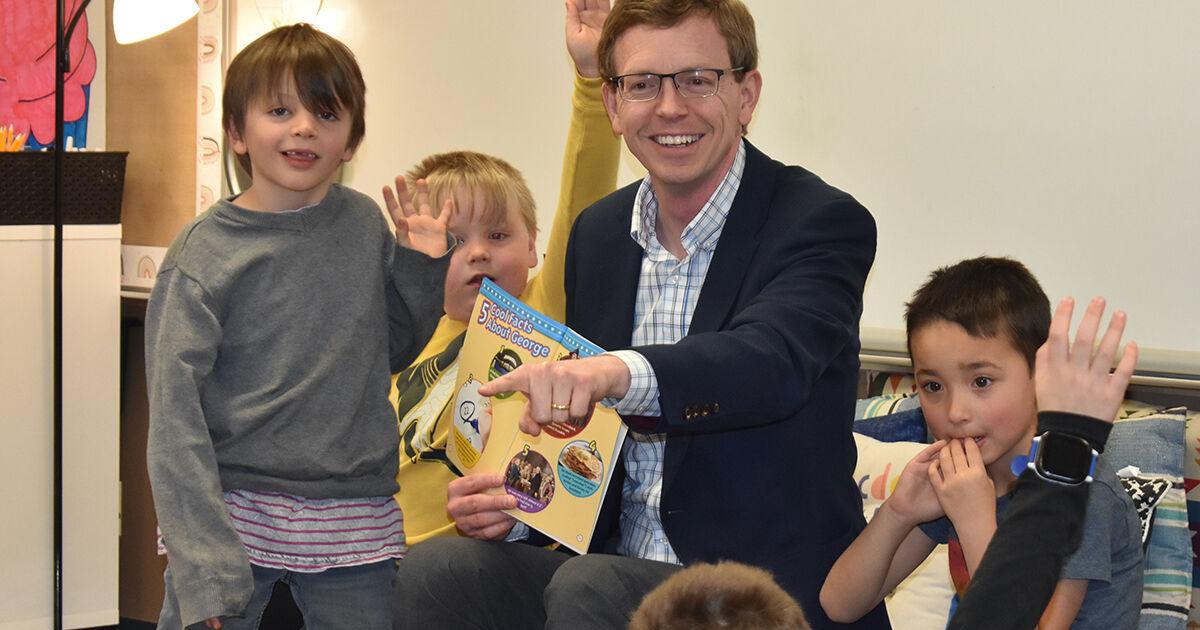 Johnson learns life lessons from freshmen | Local News
BLACK HAWK — There's no mistaking the booming voice of South Dakota Rep. Dusty Johnson.
But on Wednesday, some freshmen had to remind the congressman that at the lunch table in the cafeteria, you should use your "six-inch voice" – that's the volume of voice you typically use when someone one is only six inches from you.
Johnson spent the day as a substitute teacher in a first-grade class at Black Hawk Elementary School to learn more about the plight of educators and to highlight the urgent need for substitutes not only in the Rapid City School District. , but statewide, he said.
Teaching is a critically important profession, and educators do it under quite difficult circumstances, the congressman said.
"We talk about how hard life is for frontline workers. Sometimes I think we forget the teachers. Today was an important opportunity to show solidarity and learn a little more about what is happening in the classroom," he said.
Johnson also learned that first graders, even when they disagree with each other, treat each other with respect.
"Frankly, I think those of us in Washington, DC could learn a lot from spending a day in a freshman classroom," he said. "And, I got a lot more hugs here than I normally get in the American house."
Johnson said it was refreshing to have hugs instead of shrugs.
"I have teenagers in my house, so I get a lot of shrugs. But here in first grade, you get hugs," he said.
Johnson thinks the job of a first-grade teacher is tougher today than it has ever been.
"Already today I saw how many different backgrounds these children come from. We want to make sure that we give these educators the tools they need to do the job," he said.
One of Johnson's students, Brody Chilstrom, said the congressman was a "very, very good" teacher.
"He's so sweet and he's pretty smart," Brody said.
Part of the day's lesson plan was to learn more about George Washington.
Johnson read aloud from a book about the first president that characterized him as a farmer, a soldier and a hero. "He helped Americans become a free country," Johnson said.
The book contained a photo of the Mount Vernon estate in Washington.
One of the students confused Mount Vernon with the White House.
"It's like the White House in that it's where a president lived, but that's where George Washington's family lived. The White House is where every president can live, by Joe Biden to Donald Trump to Barrack Obama all the way back," he said.
Johnson didn't finish finishing his sentence when a student replied, "I don't like Joe Biden."
Johnson quickly deflected, saying, "Everyone has different opinions on politics."
When he finished reading, Johnson asked the students to write and draw three things they had learned about Washington in the book.
Some have written that the first president was a good man. Others wrote that he was a soldier in the Revolutionary War and still others remembered that Washington was a surveyor by trade.
Johnson said he enjoyed spending a day walking in the shoes of a teacher.
"In a week or a month, when an educator talks to me about issues, I will have at least limited experience to hang their words in my mind," he said.
Johnson, who attended school in Fort Pierre in grade one, said classrooms today are less structured than he remembers.
"Today's teachers adapt teaching to each student in real time," he said. "Teachers are not just a rote robot in the classroom. They are very flexible, creative and committed professionals. I don't think a lot of people understand that.
Johnson summed up his day by saying the students had been very patient and kind.
"They didn't cheat on me, as far as I know," he said.
To read all of today's stories, click here or call 642-2761 to subscribe to our e-edition or home delivery.