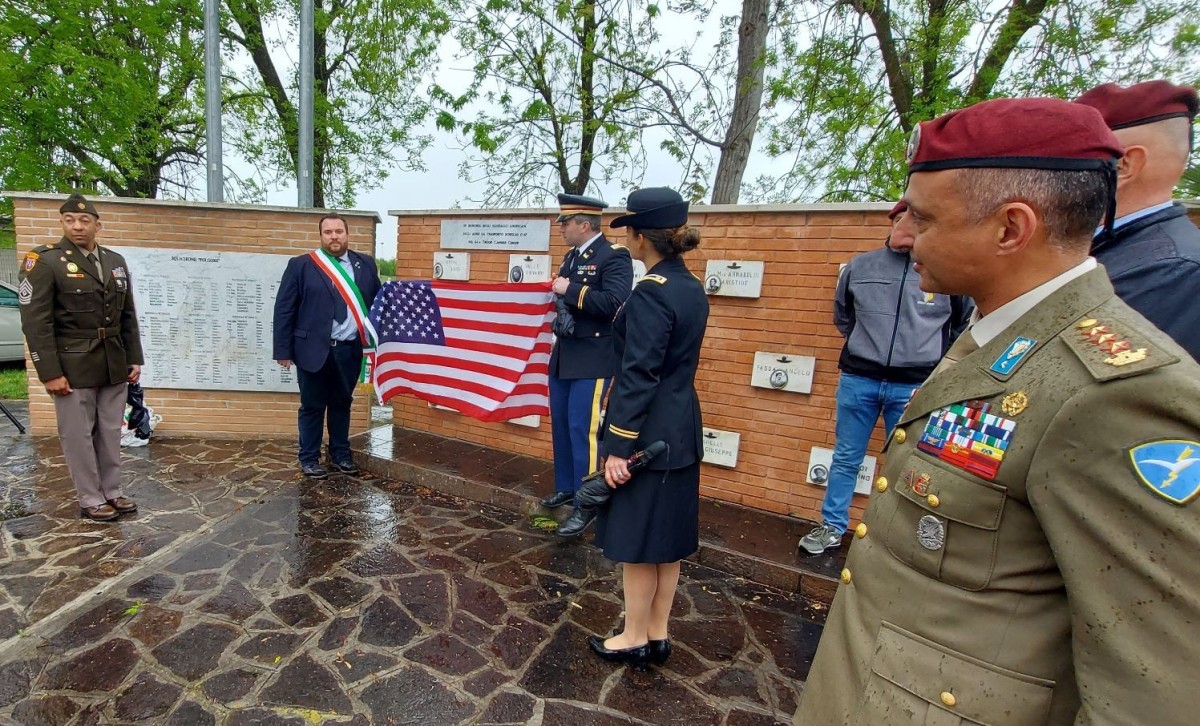 Italians pay tribute to American WWII pilots | Article
POGGIO RUSCO, Italy – Soldiers from the U.S. Army Garrison Italy helped members of a small Italian community recognize World War II pilots during a remembrance ceremony April 24.
Members of Headquarters and Headquarters Company, dressed in uniforms, joined Italian paratroopers – current and veterans – and other members of the community to unveil a plaque commemorating the Herring operation. Under gray skies, people gathered in this small town, an hour's drive south of Vicenza. Italian leaders unveiled the plaque that recognizes American pilots who flew Italian paratroopers over the Po Valley – an airborne operation that helped hasten the end of the war in April 1945.
"Italian, American and British allies who participated in this event helped secure freedom for the entire world," said Cpt. Joseph Hart, the commander of the HHC. "I have the privilege of honoring these paratroopers who fought before us. I am especially grateful to those who gave their lives for the freedom we enjoy today.
Maj. Evette Barnes and 1st Sgt. Jonathan Risher also attended the event which highlighted Operation Herring – the last WWII airdrop in Europe. It was designed to help break through the German defensive line so the Allies could occupy northern Italy. Since the end of World War II, American and Italian troops have trained and served together. Italy and the United States are two of the 12 founding members of NATO, which began in 1949.
"Today was to honor American pilots," said Major Cesare Scaglioni, an Italian officer with the airborne brigade in Pisa, Italy. "It is important to remember events like this every year in order to maintain this friendship."
The annual remembrance honored the 77th anniversary of the final turning point leading to Italy's liberation from the Axis powers. The event took place a day before April 25, Italian Liberation Day.
"We need to remember what happened in the past to understand the big picture, to move forward into the future in the most careful way possible," said Captain Michael DeSandre, a C-pilot. 130 of the US Air Force, currently in service in an Italian. military unit.
DeSandre, who is normally assigned to Ramstein Air Base in Germany, was among more than 100 people who turned out in the cold rain to honor the sacrifices of participants in Operation Herring which ultimately led to the liberation of the Italy and finally at the end of the war.
"I will remember how the Italian Army greeted me and the US Army representatives and how we are all on the same team," DeSandre said.