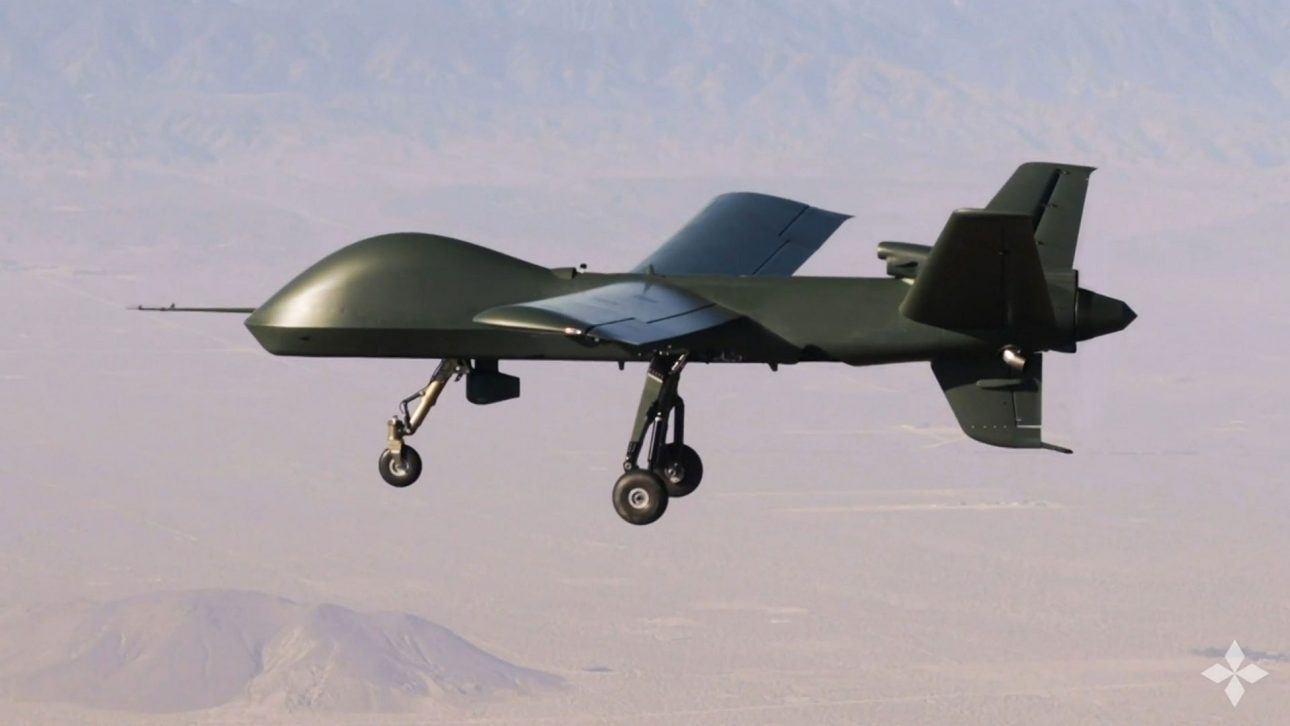 Is the drone F-35 there? Meet the US Army's next combat drone that offers more firepower and a short landing and take-off function
The US defense company General Atomics has unveiled a new combat drone called "Mojave", which has short take-off and landing (STOL) capability and increased firepower, something similar to the F-35B without the VTOL function.
The F-35B is a Short Take-Off Vertical Landing (STOVL) jet. It can land vertically like a helicopter and take off over very short distances. This allows it to operate from difficult, close-range bases and a range of air-capable ships like the Mojave, named after one of the harshest and austere regions in the world.
The initial objective was to create a drone that the military could use in harsh environments and would have a larger payload than the US Army's MQ-1C Gray Eagle. The Mojave is also based on the General Atomics MQ-1C Gray Eagle.
It is designed for short take-offs and landings from semi-improved surfaces, with an emphasis on supporting expeditionary and remote operations.
The Mojave drone capable of operating in the General Atomics field covers:https://t.co/jSifuwVRns

– The War Zone (@thewarzonewire) December 9, 2021
According to David Alexander, president of General Atomics Aeronautical Systems, the company's engineers have been actively working on the drone for two years.
GA wanted a drone to be runway independent. She realized that a vertical take-off and landing (VTOL) setup would be too difficult, after which the company switched to the STOL design.
While Mojave's avionics and flight control systems are based on those used in the MQ-9 Reaper and MQ-1C Gray Eagle-ER, its larger wings and high lift features set it apart from the latter. .
According to the company, its improved short-field performance would make it ideal for carrier operations without the need for a catapult or stopping equipment during recovery. However, it is not clear whether the services are interested in it or not, as there is currently no program that the new drone would fall into.
Alexander added that the product has attracted the interest of several international buyers. However, the company has not disclosed which country is currently interested in drones. He added, "You fight physics and you end up with something that doesn't persist. "
A STOL compatible drone
With the help of leading edge slats and double slot flaps, the wing design of the Mojave is new, engineered for maximum lift. Compared to the wings of the Gray Eagle or the modified Gray Eagle Extended Range, it has a wider chord and larger dimensions.
The new drone has a wingspan of 52 feet, compared to 56 feet for the conventional MQ-1C and 58 feet for the Gray Eagle Extended Range (GE-ER).
Mojave offers alternatives to traditional airport runways and infrastructure for basic activities. It can land and take off over rough terrain while retaining significant durability and persistence advantages over manned aircraft.
Mojave has so far proven its ability to take off and land within 500 feet in testing. The goal is for the drone to be able to take off and land in as little as 300 to 400 feet in its most basic configuration, a feat made possible in part by an unusually low stall speed.
This unmanned aircraft successfully landed at speeds as low as 45 knots during flight tests. According to GA-ASI chairman Alexander, "he doesn't even look like he has to fly, he's going so slow." Mojave could fly in the air for up to 25 hours or more, but that would require more fuel.
However, with an increase in the fuel load, the drone will need a longer runway for take off. Alexander said: "All you need is a dirt road to function as a track."
Sensors, increased payload capacity
The Mojave's fuselage is comparable to that of the Gray Eagle, which was partly based on the MQ-1 Predator and MQ-9 Reaper. However, it replaces the tail of the MQ-1C with one that looks more like that of the MQ-9.
Other notable modifications can be found near the rear of the fuselage, where a Rolls-Royce M250 turbine engine is installed. The M250, a popular design that already powers a variety of fixed-wing aircraft and manned helicopters, has an output of 450 horsepower.
Mojave can accommodate multiple sensors, including radars with synthetic aperture imaging capabilities and signal intelligence suites, in addition to communications packages, in addition to the sensor turret under its nose. GA-ASI uses its Scalable Command and Control System (SC2), which it developed for the US military, to control the drone.
Mojave has six anchor points under the fenders and a central anchor point, all of which are capable of supporting heavier weights. The potential of the new drone to carry up to 16 Hellfire missiles under its wings was highlighted by the company, but it was also pointed out that it could carry a variety of other weapons and supplies depending on a customer's needs. . The aircraft has an increased payload capacity of 3,600 lbs (1,633 kg).
Alexander said Mojave may have greater standalone capabilities in the future. He mentioned in particular GA-ASI's involvement in the Air Force Skyborg program as an example of the company's current work in this area. It is relevant to note that under the Skyborg program, the F-35 and F-15EX jets could control their own companion drones.