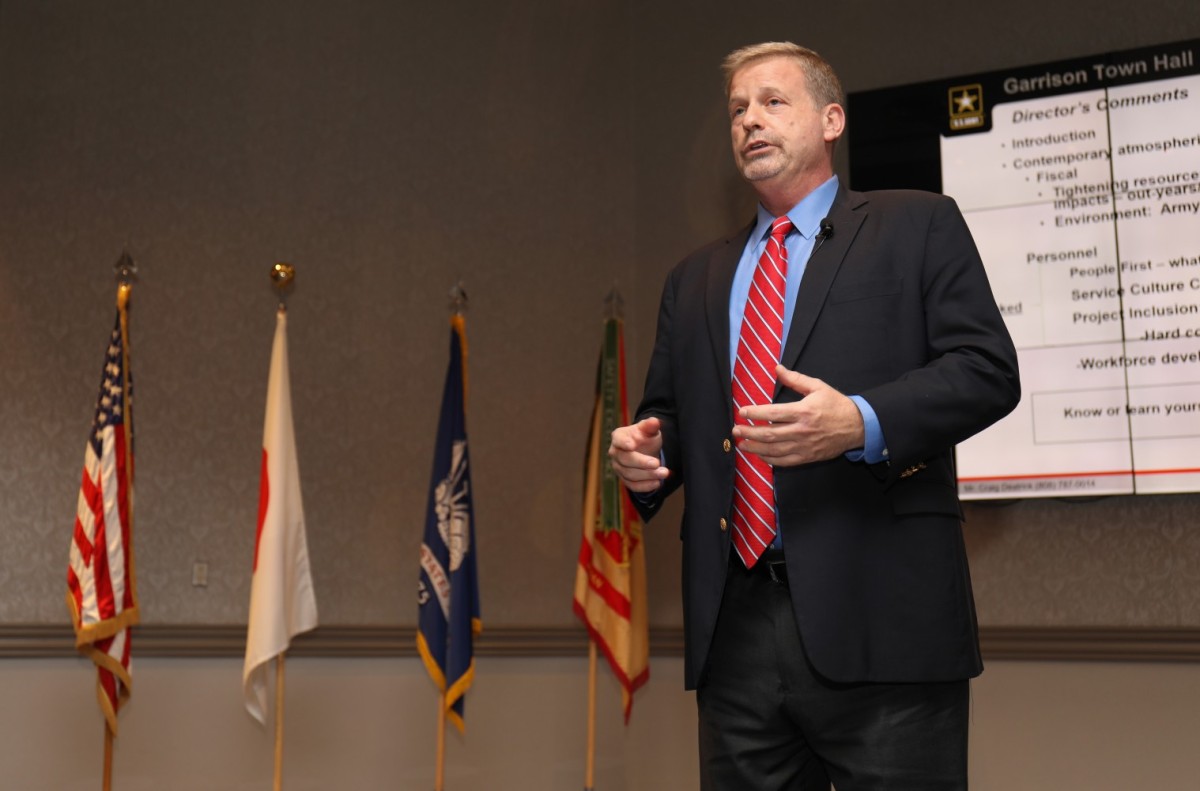 IMCOM-Pacific Leaders Discuss Career Progression with Civilian Workforce | Article
CAMP ZAMA, Japan — The director of U.S. Army Installation Management Command–Pacific on Tuesday presented a career roadmap aimed at helping civilians rise through the ranks at a town hall meeting here.
Craig L. Deatrick said training and experience are both key to manpower development in the military as he addressed a crowd of about 100 American and Japanese civilians at the level beginner and intermediate at Camp Zama Community Club.
Deatrick and Command Sgt. Maj. Jason R. Copeland, lead for IMCOM-Pacific, held the closed meeting, which leadership here did not attend to promote open dialogue, as part of their visit to a Army Installations Week in Japan.
Educated workforce
Touting the Army's top priority of putting people first, Deatrick discussed several self-development programs available to Army civilians and local Japanese nationals.
The Civilian Education System, or CES, offers a foundation course for all new civilians to orient them on how to become an effective leader in the military, he said.
There are also CES courses designed to be taken at a certain level, or an equivalent position if a Japanese national, to deepen their knowledge and leadership skills. For example, a basic course is available for GS-01 to GS-09, an intermediate course for GS-11 and 12, and an advanced course for GS-13 to GS-15.
"These can help form a roadmap if someone in the room aspires to positions of greater authority or responsibility," he said.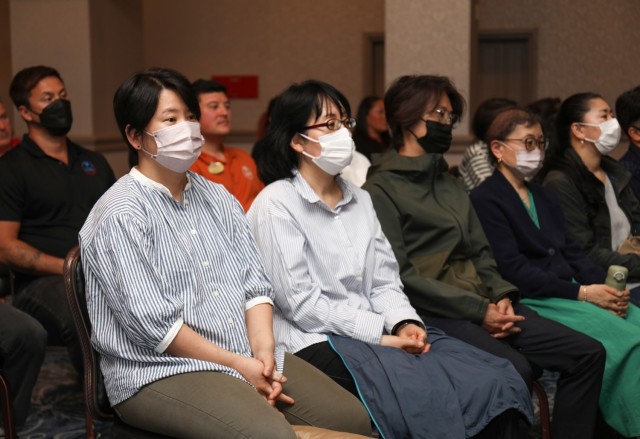 Deatrick advised audience members to research the Army's civilian training development and education system for the appropriate career path and additional training they can pursue in their specific career program.
He said he understands that some civilians who are not native English speakers may be reluctant to take a course, which may require written assignments and presentations.
English is also not his wife's first language, he said. Although she had similar reservations about attending her first CES class, she decided to go anyway and was able to graduate.
"I would encourage you to swallow your fear and take the classes," he said. "As long as you try the course, they won't let you down. They will do whatever they can to help you graduate.
Civilians who have previously served in the military can also benefit from these courses. When Deatrick was a young officer, for example, he said there was no "military decision-making process," which is now widely used in military offices.
Once he became an army civilian, he said he had to learn it and other subjects.
"Just because you knew it 10 or 20 years ago doesn't mean you know it now, because things change," he said. "And we have to keep up with the times."
Gain experience
The other half that's needed to rise through the civilian ranks is extensive experience, Deatrick said.
Throughout his career, the senior executive service officer said he had to move several times in order to take advantage of career-enhancing opportunities in the military.
"If you're ambitious, it will force you to move," he said.
He told the civilians present that it would be easier for them to seek experience in another career field now, rather than years later when they are at a higher level.
The cross-functional mindset gained by tackling roles outside of their comfort zone can provide civilians with a more diverse experience and understanding of new spoken vocabulary in a different career field than their original one, a- he declared.
Some experiential learning opportunities that allow civilians to work in a different environment include the Senior Enterprise Talent Management and ETM programs, which are available for GS-12 or equivalent and up.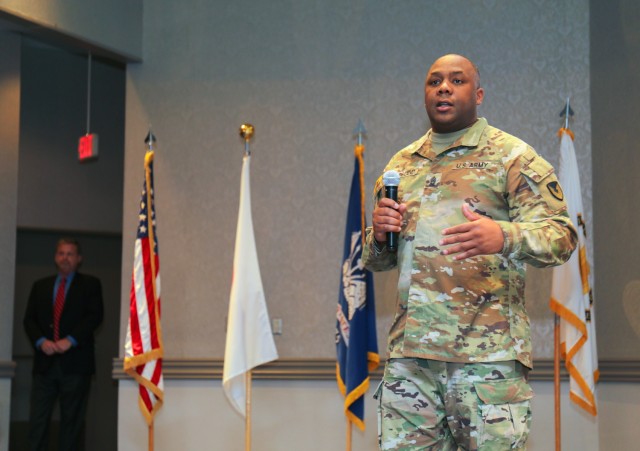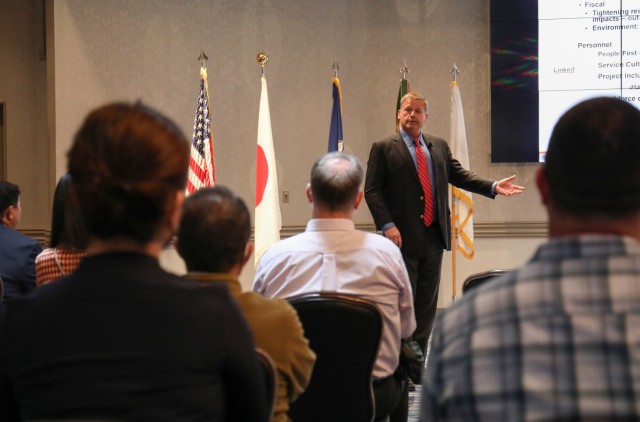 As a soldier, Copeland said his range of leadership training also prepared him to take on greater responsibility. He announced that he would be tackling his next challenge as IMCOM's senior leader in the coming months.
"Each of my positions has taught me more and more about what I need to do to not only help all of these soldiers, but also to help you as civilian employees," Copeland said.
The sergeant major said civilians who enroll in leadership courses can learn how the military works and how to communicate better with their fellow soldiers.
"Please take advantage of these opportunities because we really want to keep you on the team," Copeland said. "You are valuable to us and [training courses only make] it will get better with time.
Deatrick said a mentor should also be sought out to help guide someone through their career path.
While he admits it might be an awkward request, he suggests employees personally ask a leader they admire if they'd be willing to mentor them. This is especially important when questions arise about what task or course they should take next, he said.
"If you have a mentor or someone you trust that you're not in competition with, that's a great place to start," Deatrick said.
He said those aspiring to become an SES officer should be prepared to work long hours and weekends without any time off.
But the extra work can be worth it if they really want to make a difference that helps the Army's mission and its people.
"If you are looking to have a positive impact on your organization, I encourage you to try to sue SES," he said. "If you're interested in status, a parking space and a higher salary, don't bother pursuing SES. Go find a job in the private sector.
(Editor's note: Those interested in taking a talent management course or program can contact their human resources office to find out if they are eligible.)
Related links:
News from the U.S. Army Garrison Japan
USAG Japan Official Site