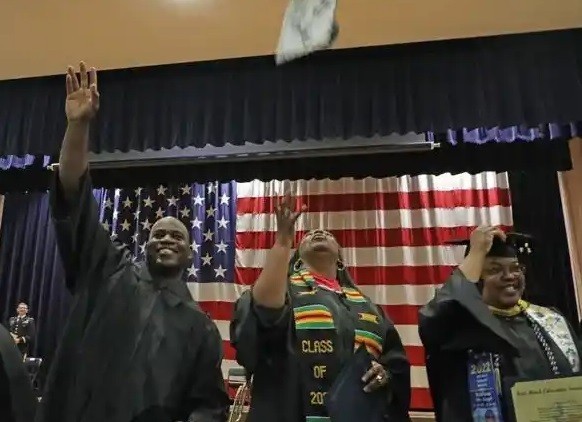 Fort Hood honors graduates at post-large ceremony | Article
FORT HOOD, TX- Thirty-two graduates from 13 colleges were honored at three post-large graduation ceremonies at Howze Auditorium here on April 25 and 26.
"The graduates here today set a goal and took one step, then another, and another, until they reached their goal of completing their academic program for which we celebrate today" , said Sheri' Buono, manager of educational services at Fort Hood. Soldier Development Center. "Many have already graduated and received their degrees from their institutions, while others are just a few classes away from completing that final paper, that final grade, that last sigh of relief."
Col. Chad R. Foster, Commander, U.S. Army Garrison – Fort Hood, applauded the graduates for the countless weeks, months, and even years it took to complete this process, despite the long hours and sleepless nights. He said they are a positive example for others to emulate as they wonder if they have what it takes to graduate.
The colonel told the graduates that they now have an obligation to go out and use their new knowledge, gained through their degrees, to better their families, their organizations and themselves.
Sharing a quote from German philosopher Immanuel Kant, Foster said, "'Experience without theory is blind, but theory without experience is mere intellectual play.' What Kant was describing was the necessary balance that must exist between what you learn from books and what you learn from life.
One graduate from each of the three graduation ceremonies was selected to be the student lecturer for their class. The three student-lecturers shared their personal journey in higher education.
Staff Sgt. Hanna Weilbacher, who earned a Bachelor of Science in Criminal Justice, thanked her family and friends, especially her mother, for supporting and encouraging her and never doubting her abilities.
She challenged the graduates to think of other goals they want to achieve.
"If this is the end of your studies, find a new challenge and keep fighting for your goals," she said.
Tanya Balderrama shared her high school story with perfect grades and having no idea what she wanted to be when she "grows up". So she decided to enlist in the army.
Today, she lists a slew of degrees, including an associate in medical assisting, a bachelor's degree in psychology, a master's in counseling, and an executive certificate in higher education administration, leading to her pursuit of a doctorate in higher education. and management.
"It is possible to achieve your goals at military expense, because I am a living testimony to that," she said.
Retired Sergeant. 1st Class Joel Carter shared his journey as an immigrant from Liberia, West Africa who joined the military at the age of 34. He has since earned a bachelor's and master's degree in theology, a bachelor's degree in emergency management and disaster operations, and now a master of arts in emergency and disaster management.
"I volunteered to share my story only to inspire and prove that hard work and determination will pay off," Carter said. "The journey has been difficult, therefore only you can tell the journey or the story."
Of the 32 graduates, one received an executive certificate, two received associate's degrees, 12 received their bachelor's degrees, and 17 received their master's degrees. After crossing the stage and receiving a certificate on behalf of the Fort Hood Soldier Development Center, the graduates were asked to stand and face the audience.
A thunderous applause rang out as the graduates moved their tassels from the right to the left of their caps, signaling the end of the graduation ceremony and the start of their next journey.
"Never doubt yourself for what you have accomplished," Foster said, "and above all, never doubt yourself for what you are going to accomplish."