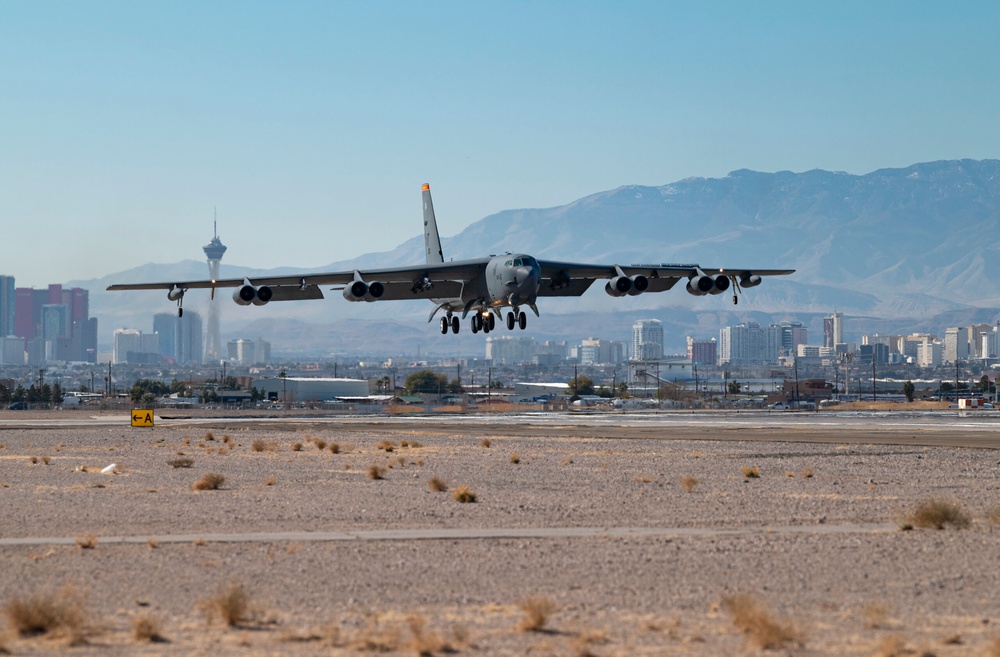 DVIDS – News – "Target, On Time, and Safely" – Air Force Exercise Red Flag Benefits from Army Space Support
COLORADO SPRINGS, Colo. – Soldiers from the 1st Space Brigade recently participated in Red Flag 22-01 – one of the premier military exercises conducted by the United States Air Force at Nellis Air Force Base, Nevada.
Two NCOs from Detachment 5, 4th Space Company, and two civilian contractors from Space and Missile Defense Command traveled to Nellis AFB for the three-week exercise. Supporting them and remote operations were soldiers from Crew 1, Det. 3, also from 4th Space Co., Peterson Air Force Base, Colorado.
Capt. Marlon Carpio, commanding officer of Det. 3, 4th Space Co., said Soldiers from both detachments provided planning and integration of non-kinetic effects into live pilot flight operations during the exercise, as well as assisting Airmen with global spatial capabilities.
"My unit provided space support in a closed-loop environment where our effects were carried by satellite, so their command and control could see what space operations we were bringing to the exercise," Carpio said. "When the planes were in the air, we synchronized the timing and pace of our operations to match the daily missions."
Sergeant Onysha Paxton, signal collection analyst for Det. 5, 4th Space Co., served as a space liaison non-commissioned officer at Nellis and assisted in space control operations mission planning. It was his first mass joint service exercise.
"I had no idea what I was getting into," Paxton said. "Once I realized the big picture when I got to Nellis I thought everything was really amazing. Constant air traffic, working with NATO partners and seeing all the planning and logistics that go into an exercise like this has been an eye opener.
In addition to working with NATO partners, the crews linked up with the US Space Force and coordinated operations with them.
Captain Justus Eckstrom, Crew 1, Det. 3, officer in charge, said the crews successfully synchronized joint military and space force space capabilities with the non-kinetic duty officer for the exercise.
"It was a high-speed, very fun operating tempo," Eckstrom said of the exercise. "Working with Space Force and learning about their equipment and methods has been a great experience for all of us."
Air Force Capt. Kaylee Taylor, chief of non-kinetic integration at the 414th Combat Training Squadron at Nellis AFB, said Army Space Operations has helped the past three years with the squadron mission during Red Flag.
"In an exercise like Red Flag, Army space soldiers support our pilots by providing non-kinetic effects," Taylor said. "Which has a positive impact on them because they can be better prepared to fight and win in combat operations. Both the Air Force and the Army benefit from this relationship, and we would like to see the 1st Space Brigade soldiers return next year.
Major Steven Richards, commander of the 4th Space Co., said the teams performed superbly.
"The problems that the crews faced and solved during the exercise were much more difficult and much more dynamic than what they typically encounter during certification and other training environments that we can replicate," said said Richards. "The crew is now exceptionally prepared for their upcoming deployment to CENTCOM (US Army Central Command).
Carpio was also pleased with the performance of his crews and summed up their mission.
"Ultimately, our systems greatly affected the efficiency of Air Force operations during the exercise by allowing freedom of movement of rapid movements through the air to deliver their ammunition to the target, on time. and in a safe way," he said.
| | |
| --- | --- |
| Date taken: | 24.02.2022 |
| Date posted: | 26.02.2022 12:46 |
| Story ID: | 415238 |
| Location: | COLORADO SPRINGS, CO, USA |
---
| | |
| --- | --- |
| Web views: | 7 |
| Downloads: | 0 |
---
PUBLIC DOMAIN


This work, "On target, on time and safely" – Air Force Red Flag exercise gets Army space supportby SFC Aaron Rognstadidentified by DVDmust follow the restrictions listed at https://www.dvidshub.net/about/copyright.