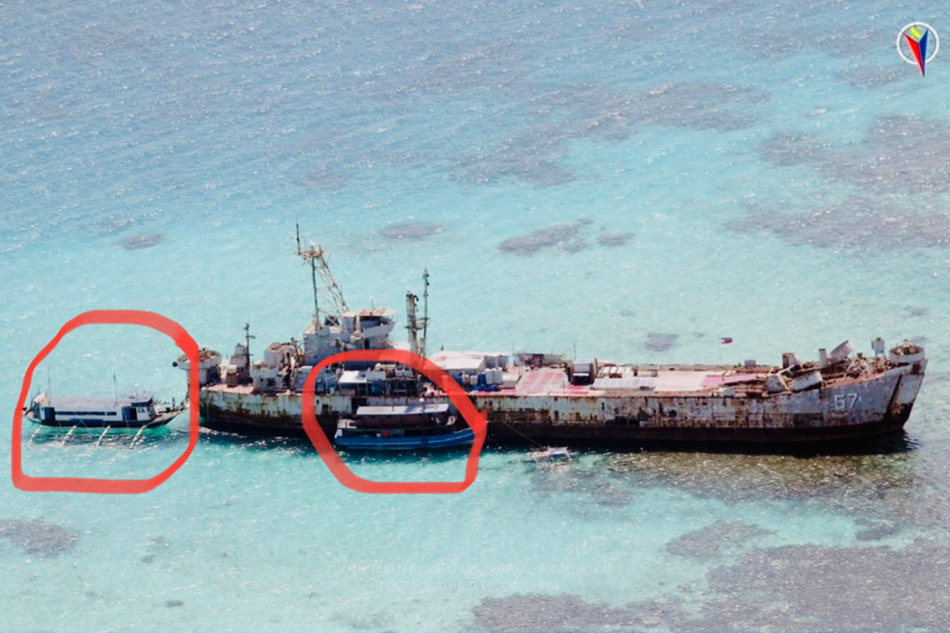 China is an intruder in Ayungin Shoal (head of DND)
MANILA – China is an intruder in Ayungin Shoal (Second Thomas Shoal) in the West Philippine Sea as the Philippines' claim to the region is upheld by UNCLOS and the 2016 arbitration award, the Secretary of Defense said on Thursday. Defense Delfin Lorenzana.
"Ayungin is inside our (exclusive economic zone) over which we have sovereign rights. Our EEZ was given to us by the 1982 United Nations Convention on the Law of the Sea, which China has ratified. China must respect its international obligations of which it is a part, "Lorenzana told reporters.
"In addition, the arbitration award ruled that China's land claim has no historical or legal basis. Ergo, we can do whatever we want out there and they are the ones who are violating. "
"Meron tayong dalawang documento na nagpapatunay na meron tayong sovereign rights sa ating ZEE, habang sila a wala and yung claim nila walang basehan," he said.
(We have two documents proving that we have sovereign rights over areas of our EEZ. China has none and their claim has no basis.)
Lorenzana released the remarks after China reiterated its demand that the Philippines remove the BRP Sierra Madre which has been grounded in Ayungin Shoal since 1999.
At a press conference in Beijing, Chinese Foreign Ministry spokesman Zhao Lijian on Tuesday justified the presence of Chinese personnel near the Philippine ship that Lorenzana complained about, describing it as a form " of intimidation and harassment "from China during a supply mission to Philippine troops stationed in Ayungin.
Zhao again claimed that Ayungin Shoal, known in China as Ren'ai Jiao, is part of Nansha Qundao, the Chinese name for the Spratly Islands, which is also partly claimed by the Philippines.
"Ren'ai Jiao is part of the Chinese group Nansha Qundao. China demands that the Philippine side honor its commitment and withdraw its stranded ship on Ren'ai Jiao. This position remains unchanged. This delivery of food and other supplies is a temporary and special arrangement on humanitarian grounds, "Zhao said.
Responding to the request regarding the withdrawal of BRP Sierra Madre, Lorenzana said: "As far as I know, there is no such commitment."
"This ship has been there since 1999. If there had been a commitment, it would have been withdrawn a long time ago," he said.
The Philippines stranded the BRP Sierra Madre at Ayungin Shoal to assert Manila's claim to sovereignty in the region after China occupied the Mischief Reef in the mid-1990s. A small Philippine military contingent has been based on the rusty ship ever since. .
The 2016 South China Sea Arbitral Award also ruled that Mischief Reef, which China has now fortified into a military installation, is in the EEZ and the Philippine Continental Shelf.
Tensions in the hotly contested waters increased last week after the Chinese Coast Guard dispatched Philippine water cannon boats trying to deliver supplies to BRP Sierra Madre personnel.
The 2016 Hague Permanent Court of Arbitration ruling invalidated China's vast claims in the South China Sea, but Beijing continues to ignore it.
Some foreign governments have called on the parties concerned to adhere to UNCLOS and the South China Sea arbitration award.
Vice President Leni Robredo said she hoped the Philippines would be "very consistent" in rejecting China's demands on the waterway.
"Nakikita naman natin na kapag consistent tayo nagba-back off naman. Kapag consistent tayo sa posisyon natin, nakukuha natin iyong tulong and cooperation with ibang mga bansa and ito naman iyong pinaglalaban natin from the start," said opposition leader random interview.
(We see that when we're very consistent, they back off. When we're consistent with our position, we get help and cooperation from other countries, and that's what we've been striving for from the very beginning.)
"Hindi naman tayo kailangang makipag-debate. Klaro na bahagi ito ng ating EEZ at mayroon tayong sovereign rights over dito. Dapat iyong enjoyment ng resources doon are exclusives by a mga Pilipino, "added Robredo, who is running for the presidency of the 2022 elections.
(We don't need to debate. Clearly this is part of our EEZ and we have sovereign rights over it. The enjoyment of the resources there should be exclusive to Filipinos.)
His running mate, Senator Francis Pangilinan, tabled a resolution calling for a legislative inquiry into how Chinese actions are affecting the livelihoods of Filipino fishermen in the western Philippine Sea.
A separate House of Representatives resolution tabled this week called for an investigation into the Chinese blockade in Ayungin Shoal.