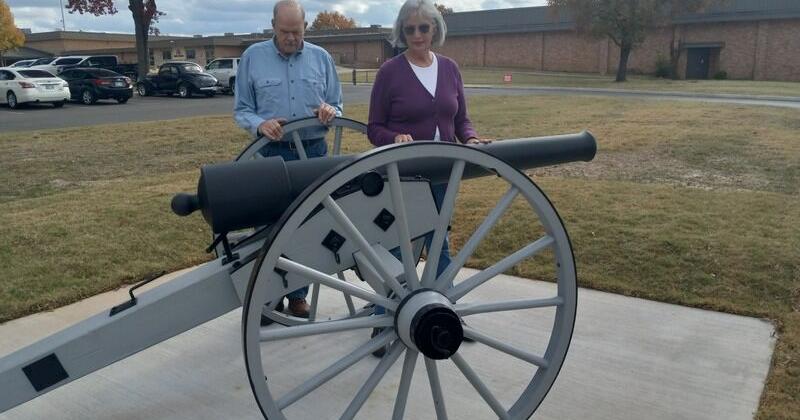 Cannons dress the entrance to Fort Gibson schools | Schools
[ad_1]
Two replicas of unusable American Civil War cannons now guard the entrance to the Fort Gibson schools.
Superintendent Sam Farmer said he came up with the idea after studying the district letterhead and school crest. He said he was looking for a suitable new entrance for the main campus.
"Our official school symbol is two cannons with a tiger's head in the middle," he said. "When we designed the main entrance we wanted to make it look more professional, a classier look, we just took the image from our school letterhead. Wouldn't it be appropriate to link that to the history of our city? "
The district recently created a parking lot to the east of the administrative building to facilitate movement between the high school and the college. There is a concrete FTG sign to the east of the parking lot.
The school faced an explosive challenge.
"It's hard to find a gun," Farmer said. "If you can find one, they are extremely expensive."
Farmer said that in April, he met retired District Mechanic Joe Rybolt and retired Middle Elementary Principal Sherry Rybolt at a community breakfast.
Farmer said he mentioned his desire for cannons and "Sherry mentioned that Joe had built one in the past as a hobby."
The Rybolts agreed to donate the labor while the district paid for the materials, Farmer said.
"Joe and Sherry are two of the most skillful people we've ever met," he said. "If you've ever been to Joe and Sherry's, you see the work they do to renovate the buses."
Joe Rybolt enjoys tinkering in his spare time. He once made a small replica tank that he drove on veterans parades. The tank had an air compressor that allowed it to pull candy from the tank.
Sherry Rybolt said she studied the 1800s cannon at the Fort Gibson Historic Site and then researched Civil War cannon specifications. They found old government specifications.
"Different people made them, it wasn't just a common specification. He picked one and built the length of the cone, the axis, the whole accordingly. It was quite an effort," he said. she declared. "He looked at photos and tried to make them as real as possible."
The cannon project took all summer, she said. Part of that involved waiting for the barrel barrels to come from New Zealand.
"It took the slow boat from New Zealand and then it got stuck in Los Angeles Bay because of the shipping backlog," Rybolt said.
The wheels were made of hard hickory wood by an Amish wheelwright from South Dakota, she said.
Joe Rybolt said the oak for the barrel frame was cut at a local sawmill.
"He cut it to the dimensions we need," said Rybolt.
Sherry Rybolt said she "got involved in the paint job".
"He does the crafts," she said. "It takes patience to paint. It ended up being a joint effort. He learned a lot and it was fun to see them come together."
She called the guns a "fun project together."
"I would be lying if I didn't say at the end that I was starting to get tired," she said. "It was a big project."
[ad_2]