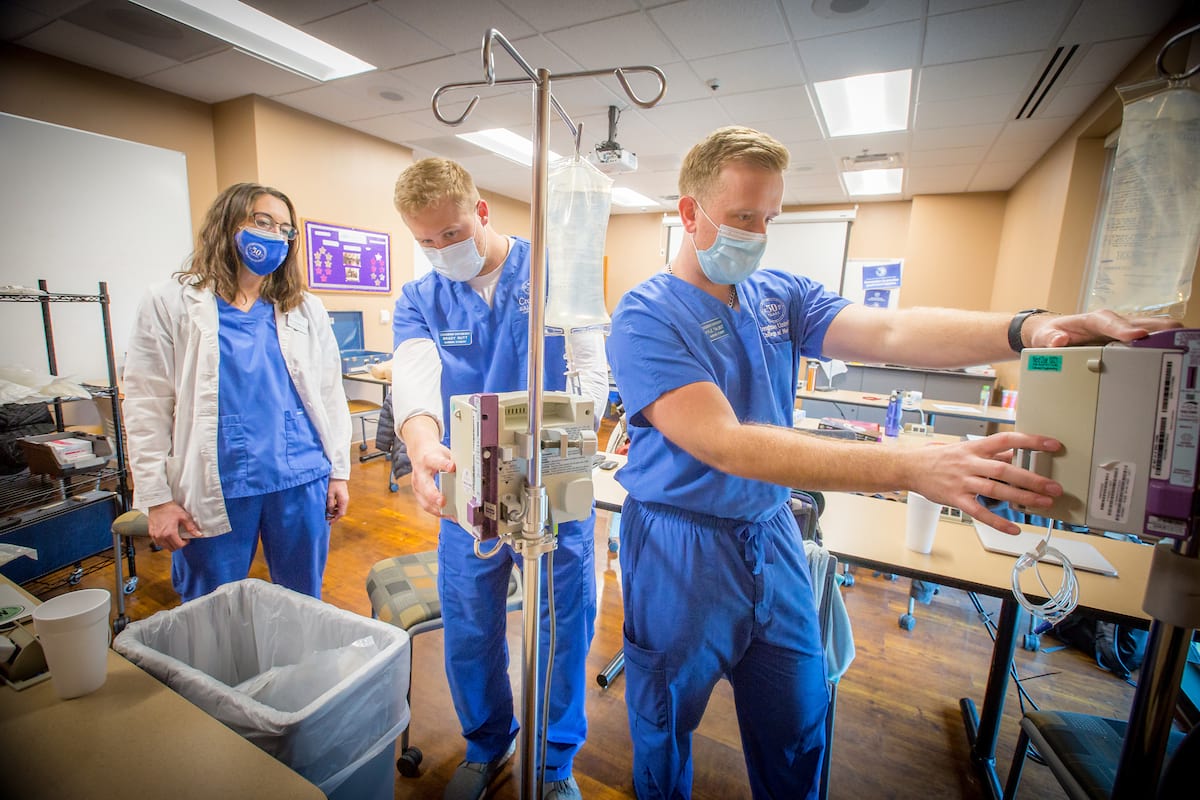 Campus Clips: Partnerships Offer New Opportunities
Nursing partnership
Concordia University, Nebraska (CUNE), Seward, Neb.partnered with Creighton University in Omaha, Neb., to offer students the opportunity to receive both a Bachelor of Arts in Biology and an accelerated Bachelor of Science in Nursing while completing their college programs in four years in total.
Through this partnership, students will spend the first three years of the program at CUNE and the final year at Creighton's Grand Island campus. Students can choose to stay in CUNE accommodation during the final year.
"This partnership with Creighton University will provide Concordia students with access to one of the most successful and longest running accelerated nursing programs in the country," said Dr. Tim Preuss, Rector of CUNE. "Nursing is already Concordia's main pre-health program. This partnership will allow students to continue their Christ-centered education at two nationally recognized Christian universities right here in Nebraska.
Learn more about cune.edu/nursing.
Rové visit
Karl Rove, former White House deputy chief of staff and senior adviser under President George W. Bush, visited Concordia University Wisconsin (CUW), Mequon, Wis., in March, giving CUW students a behind-the-scenes look at Washington, D.C. Rove, who helped Bush speak at the start of CUW in 2004, covered topics including the Russian invasion of Ukraine and the upcoming US election season. Read more on blog.cuw.edu/karl-rove.
New therapeutic space
Concordia University Ann Arbor (CUAA), Ann Arbor, Mich., remodeled its North Building to prepare for the upcoming launches of AUCU's Doctor of Occupational Therapy and Doctor of Physical Therapy programs. These are the first doctoral programs to be offered on the Ann Arbor campus. The new space includes two classrooms and four laboratories, one of which includes an adapted kitchen and a washer/dryer for therapeutic purposes. Learn more about blog.cuaa.edu/ot-pt-remodel.
Graduates shine
Four graduates of Concordia University of Chicago, River Forest, Illinois., have been honored with the Lutheran Education Association (LEA) Awards, given annually to outstanding Lutheran teachers. Mark Bahr (BA '82, MA '88), Principal of Schools for the Lutheran High School Association of Greater Milwaukee, received the Christus Magister Award, LEA's highest honor. Richard Cohrs (BA '71) of St. Charles, Mo., received the Distinguished Retired Lutheran Educator EncourAGING Award. Julie (Luber) Weil (BA '11), a teacher at Zion Lutheran School in Georgetown, Texas, has been named a Distinguished Lutheran Elementary Teacher. Daniel Sterling (BA '86), a teacher at St. Paul's Lutheran School in Des Peres, Mo., was named a Distinguished Lutheran Middle School Teacher.
Scholar of Goldwater
Averie Perez, junior at Concordia Irvine University (CUI), Irvine, CA., majoring in biochemistry, was named a 2022 Goldwater Scholar by the Barry Goldwater Scholarship and Excellence in Education Foundation. The Goldwater Scholarship, established by Congress in 1986 in honor of U.S. Senator Barry M. Goldwater, is awarded annually to the nation's top undergraduate scholars in science, mathematics, and engineering. From an estimated pool of more than 5,000 applicants, 417 students received this year's awards.
"Averie's accomplishments are a testament so well to his drive, drive and academic accomplishments," said Dr. Bret Taylor, Dean of the CUI School of Arts and Sciences.
Dr. John Kenney, Professor of Chemistry at CUI, said Perez is "truly and richly deserving of this scholarship in recognition of his dynamic enthusiasm, work ethic, can-do attitude and ambitious professional goals".
At CUI, Perez researched treatment strategies for antibiotic and multi-drug resistance using zebrafish to determine the possible success of the treatment method. She is currently working on modifying the bacteria and breeding her fish at Concordia's Marine Lab.
"I was so shocked when I won," Perez said. "This award means I'm on the right path and gives me the confidence to pursue my career goals." After graduation, Perez plans to pursue a doctorate. in cellular and molecular biology with a specialization in immunology and infectious diseases.
Mission and ministry
Concordia University, St. Paul (CSP), St. Paul, Minn., increases resources for mission and ministry through a variety of partnerships. Beginning in April, Reverend Dr. Mark Koschmann is co-teaching an online continuing education course, "Missional Leadership in the Urban Context," in partnership with Concordia Seminary, St. Louis. In May, Reverend Dr. Joshua Hollmann will teach a course on "Mission and Ministry in Urban Contexts" for Concordia Lutheran Seminary in Edmonton, Alberta, Canada. In June, the Center for Biblical Studies at CSP will serve as the host site for Concordia Theological Seminary, Fort Wayne, as Reverend Jeffrey Pulse teaches "The Joseph Narratives: A Tale of Two Brothers in Genesis 37–50" .
Seminar News
Concordia Seminary, Saint-Louis (CSL), and Concordia Theological Seminary, Fort Wayne (CTSFW), have partnered to implement a recently awarded $1 million grant from Lilly Endowment Inc. to establish a joint pastoral training project. The project is designed to assist theological schools across the United States and Canada as they seek to prepare future pastoral leaders for Christian congregations.
"I am grateful to Lilly Endowment for this generous grant and to President Rast and all of our friends at CTSFW for their commitment to this type of collaboration," said CSL President Rev. Thomas J. Egger. "This grant application concept grew out of a meeting between our Seminary Administrations in May 2021, which identified the areas of student recruitment, faculty development, and continuing education as ripe for a leadership effort. team. These initiatives aim to provide more pastors and deaconesses to the church as we continue to strive for efficiency, excellence, and ethnic catholicity in our seminaries.
"The Lord tells us 'the harvest is plentiful,'" said CTSFW President Rev. Dr. Lawrence R. Rast Jr. "We only have to look around to know it's true. … In this project we intend to heed our Lord's command to train more servants in Christ Jesus who can teach the faithful, reach the lost, and care for all. A partnership in this work will maximize the limited resources of both seminaries and serve to advance the gospel and global mission of LCMS.
Posted May 11, 2022