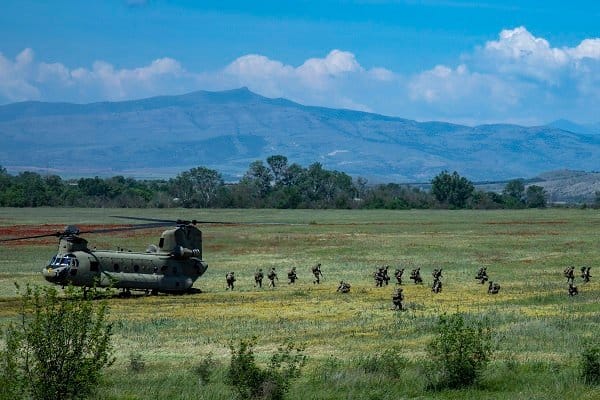 British Army prepares for war with Russia as 'Britain faces its 1937 moment' and we must be 'ready to fight and win' – London Business News
Britain's armed forces must be prepared to "fight and win alongside their NATO allies" in Europe against Vladimir Putin's "brutal aggression".
General Sir Patrick Sanders said in a speech on Tuesday that it was our "1937 moment" and said he had never seen such a threat to peace and democracy in Europe.
The Chief of Staff is focused on mobilizing the British Army to be 'ready to fight and win alongside our NATO allies and partners' and to 'act quickly'.
Learn more about the Russian-Ukrainian war:
General Sanders said: "In all my years in uniform, I have never known such a clear threat to the principles of sovereignty and democracy, and the freedom to live without fear of violence, as aggression. brutality of President Putin and his expansionist ambitions. .
"This is our moment of 1937.
"We are not at war – but we must act quickly so as not to be drawn into it because we have failed to contain territorial expansion.
"I will do everything in my power to ensure that the British Army plays its part in averting war."
He added that we must deter Moscow, which "means more armies are ready more often" and everyone "from the general in the main building to the young lance corporal in the barracks, from the reservist on weekend exercise to the official at army headquarters.
The Chief of General Staff said he had ordered the military to "prepare and train hard" and focus on urban warfare.
General Sanders previously oversaw cyber in the military, he added that 'you can't make your way across the river' in reference to the government's investment of millions of dollars in cyber at the expense of traditional forces.
He said the Defense Ministry needed to "replenish our stocks" after sending significant amounts of military equipment to Ukraine.
General Sanders said on his fourth day in charge of Britain's armed forces, every British soldier must prepare "to fight again in Europe" as the conflict in Ukraine continues.
"There is now a burning imperative to forge an army capable of fighting alongside our allies and defeating Russia in battle."
General Sir Adrian Bradshaw, who is also a former director of special forces, has warned that the UK must "prepare for war" in Europe as Putin is "willing to take the risk of engaging in open warfare in Europe".