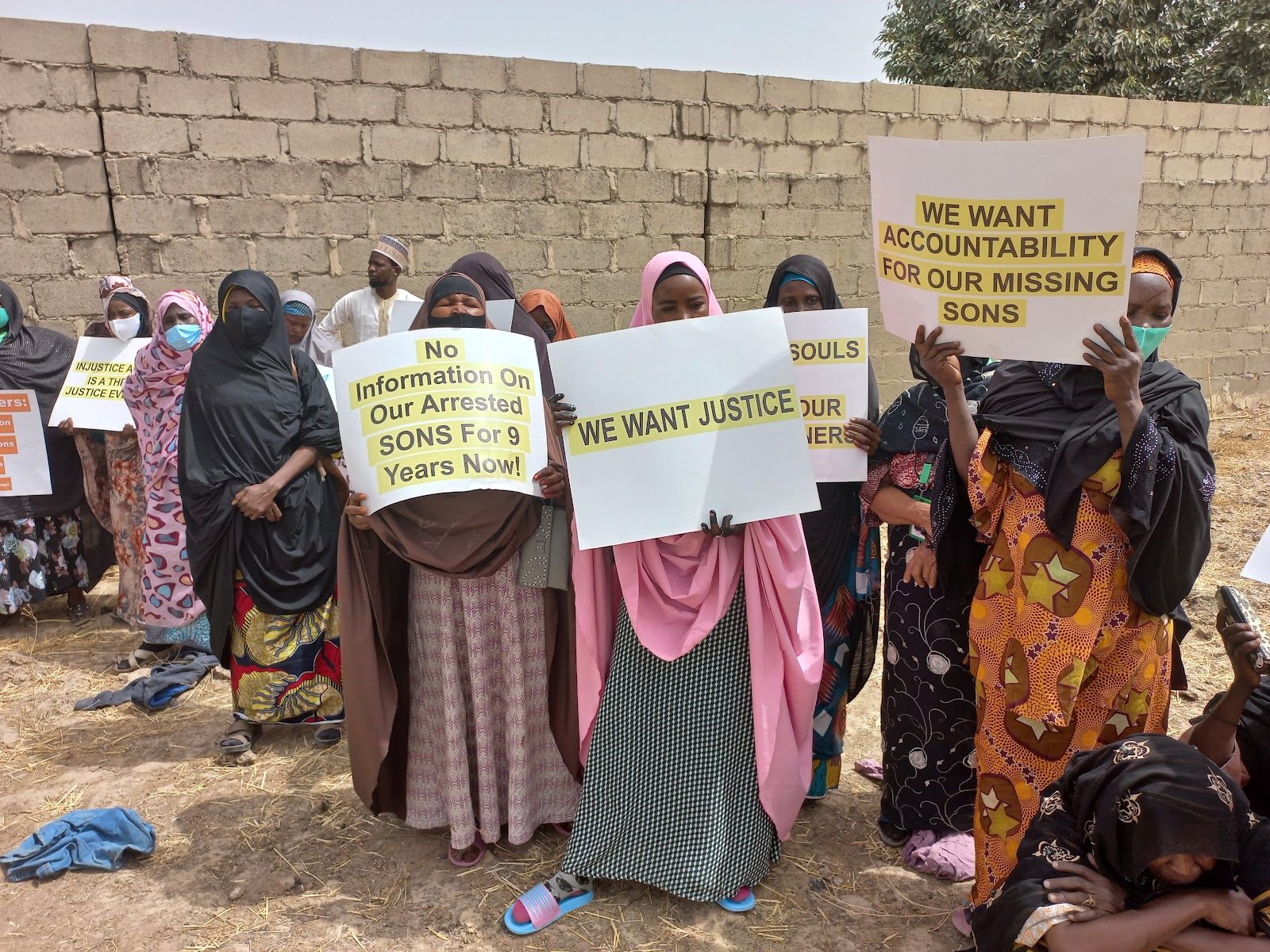 Borno women call for release of loved ones detained 8 years after Giwa barracks attack
Hundreds of women, mostly mothers and elderly wives, on Wednesday March 14 called on the Nigerian government and its military to release their male relatives arrested about eight years ago as Boko Haram suspects.
The women, organized under the Jire Dole network, said the army had arrested their male relatives en masse, including husbands, sons and brothers, over alleged complicity in Boko Haram activities between 2013 and 2014.
According to them, the majority of detainees were held in underground bunkers within the notorious Giwa barracks where most detainees were last seen before Boko Haram attacked the facility on March 14, 2014.
It was recorded that during the attack on Giwa barracks, the holding cell was compromised leading to the release of many detainees including high profile terrorists.
"Since the attack on Giwa barracks, we have lost contact with our relatives, most of whom we believe have been taken to the detention center at Maiduguri military barracks; and most of them disappeared during the height of the fight against Boko Haram," said Hamsatu Allamin, who has been one of the leading voices calling for justice for affected women.
The women annually commemorate the March 14 attack on Giwa barracks in honor of the day their husbands, sons and brothers were "wrongfully" arrested as Boko Haram accomplices.
In response to the women's persistence, the military has in recent years released more than 3,000 detainees after being cleared of all allegations.
"We are happy to confirm that out of this number, we have found 450 of the over 20,000 sons and husbands of our Jire Dole network members," Hamsatu told HumAngle.
Yet the women who had gathered en masse to protest the continued detention of their male relatives insisted they deserved clarification from the government and its military commanders about the fate of members of their beloved family.
Women tell the story
Most of the female protesters who have recounted their ordeal of the past decade have wondered why the government is granting amnesty to Boko Haram repentants while those held as suspects are still languishing in undisclosed detention centres.
Fatima Hassan, a 65-year-old grandmother, said she had lost contact with her two sons since morning soldiers burst into her home and took them "for questioning".
"My sons were not Boko Haram. Ibrahim Mohammed, was on staff at Fidelity Bank, and his younger brother, Abba, had completed his diploma program and was about to take his diploma program when they picked them up," she said. told HumAngle.
"One of the soldiers, a man from Sokoto, told us as they were about to take them away that we had to get enough money to bribe his boss, Yellow, so they could release them. We We looked for money but it was not enough so he refused to release them The soldier who speaks Sokoto Hausa asked if my children spoke English and I told him that one of them worked at the bank and the other was a student – why wouldn't they understand English. Then he said I shouldn't worry. That they would be released. But since then I have never laid eyes on them to this day," she added.
Fatime said she was told by a recently released Boko Haram suspect that her sons were being held in a prison in Kainji, Niger State.
"Some said they are alive and well in Kainji prison, that I should continue to pray for them. But I don't know what to do. These boys are innocent and loving children. They have nothing to do with Boko Haram. They were picked up in my presence while they were having breakfast," she said in tears.
"I beg the president and the army chief of staff, General Farouq Yahaya, to please release my children to me, they are innocent. They have been in detention for ten years now and since then I have not been myself. I developed high blood pressure and was dependent on medication," Fatime added.
Hajjagana Suleiman, who is also in her 60s, said her 25-year-old son was arrested on a false charge of being a Boko Haram accomplice ten years ago.
"For ten years now, I have traveled all over the country, including Abuja, looking for my son, but nobody wanted to tell me where he was. All I know is that he was detained once at Giwa Barracks where I went to see him at the start of his detention," she told HumAngle.
"I want the Federal Government and Borno State Governor Zulum to step in and help us. If he is alive they should release him as the government is currently granting amnesty to those who have killed, maimed and harassed civilians and soldiers in this state. It makes no sense to detain a suspect while a criminal is pardoned," she said.
Women who have repeatedly recounted how their husbands were taken away by the army said they would continue to call on the government to "have mercy on them".
By February 2020, the Nigerian military had released and handed over to the Borno State government around 1,400 Boko Haram suspects from its detention center at Giwa Barracks. Another 1,009 suspected Boko Haram terrorists were released by the military and handed over to the Borno State government in July 2021.
---
Support our journalism
There are millions of ordinary people affected by conflict in Africa whose stories are missing from the mainstream media. HumAngle is committed to telling these difficult and under-reported stories, hoping that those affected by these conflicts will find the safety and security they deserve.
To make sure we continue to provide public service coverage, we have a small favor to ask of you. We want you to be part of our journalistic enterprise by bringing us a token.
Your donation will further promote a strong, free and independent media.
Donate here