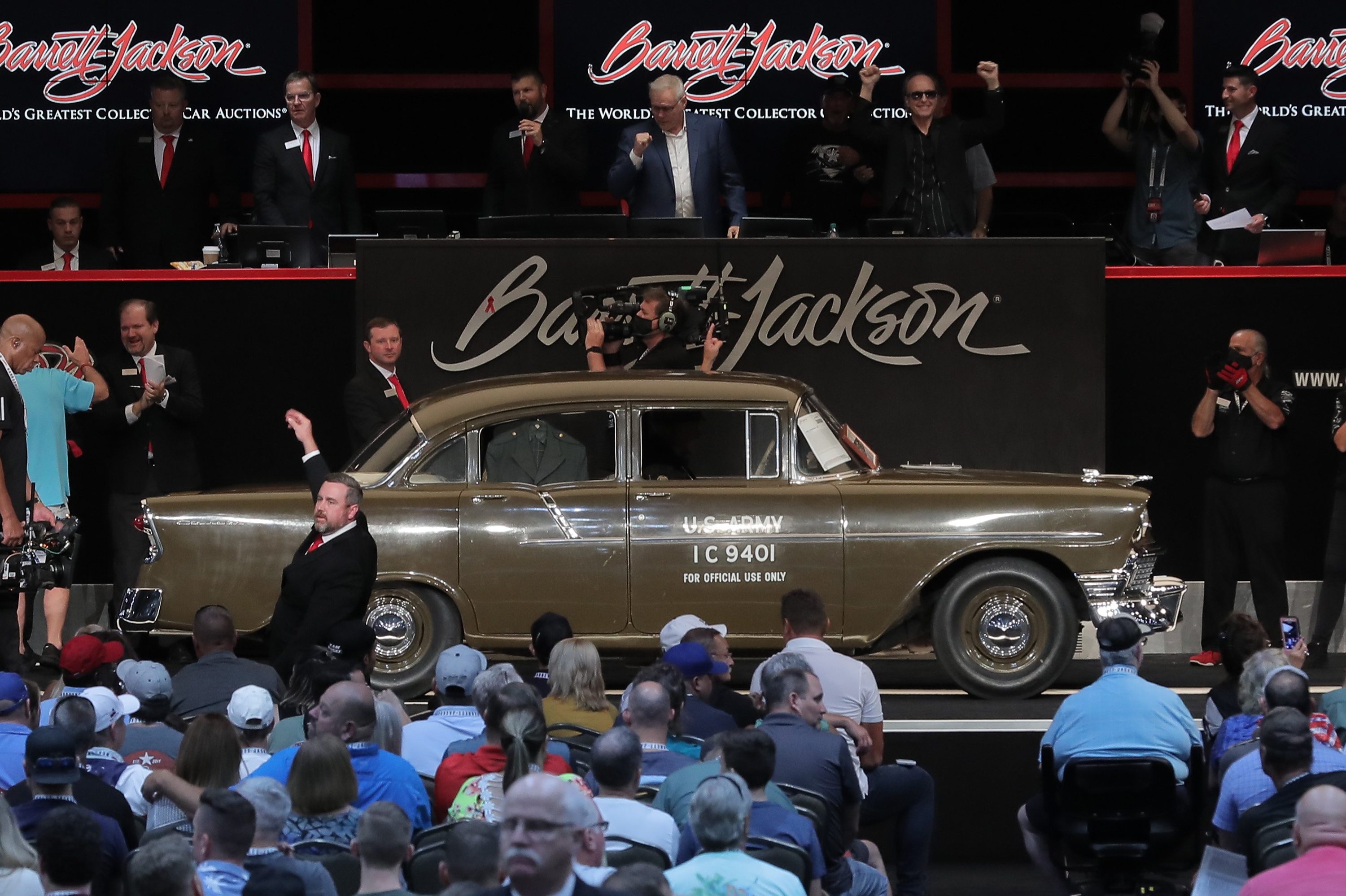 1956 U.S. Army sedan has just been auctioned off, raising $ 1 million for the Honor Flight network
A 1956 Chevrolet 150 was auctioned twice in a single event to help raise $ 1 million for the Honor Flight Network at the inaugural Barrett-Jackson auction in Houston.
The 1956 Chevrolet 150 sedan was a retired United States Army staff car at the Sioux Army Depot in Sidney, Nebraska. The Chevrolet has had three more owners since then, but hasn't driven since 1965.
Chevrolet manufactured the 150 from 1953 to 1957, a series consisting of two generations. The car was a fleet model and at the end of its run was replaced by the Delray.
The original bumpers were replaced with NOS Chevrolet parts but retained their original paintwork. The Chevrolet 150 is powered by its original 3.5-liter straight-six engine, mated to a three-speed manual transmission.
The Chevrolet was first sold for $ 425,000 last Saturday afternoon, but a few minutes later the bidder donated the sedan for auction. In the second round of bidding, the sedan sold for $ 400,000, nearly doubling the donation. Before the evening was over, a third bidder added $ 175,000 to complete the $ 1 million donation to the Honor Flight Network.
The Honor flight network connects and transports United States Veterans to Washington DC so they can visit memorials dedicated to honoring those who served and sacrificed for the country.
The network was founded in 2005 by Jeff Miller and Earl Morse who shared the mission of honoring the nation's veterans by bringing visitors to visit memorials and monuments dedicated to their service.
Originally the focus was on WWII veterans, however, the network expanded to include those who served in the Korean War, Vietnam War, intermediate operations and, in special cases of terminal illness or injury, veterans of the most recent service eras.
Since its inception, the Honor Flight Network has brought more than 245,000 veterans to the American capital.
Barrett-Jackson often uses his auction events to help raise funds for a range of nonprofits. Over the past 50 years, the auction company has raised $ 135 million in charitable donations.